Trump Demanding $5 Billion for Border Wall, Shelby Says
(Bloomberg) -- The head of the Senate Appropriations panel says that President Donald Trump is holding firm in his insistence on $5 billion for a border wall in a year-end spending package, a demand that risks blowing up negotiations and triggering a partial government shutdown.
Committee Chairman Richard Shelby, an Alabama Republican, has been working to find some middle ground between the House version of the spending bill that includes $5 billion for the wall and the $1.6 billion Republicans and Democrats on the Senate panel have proposed.
Asked whether the $5 billion is a red line in the negotiations, Shelby said, "for the president."
He said he can't predict what will happen or whether Trump is looking at a confrontation with Democrats over the wall that leads to a partial shutdown as a political benefit.
"The president has to speak for himself," Shelby said. "I'll just say that I don't think it's a good idea to shut the government down, period. But people are going to posture. And it could happen, it's happened before. But all the government won't be shut down, even if it is. I hope none of it shuts down."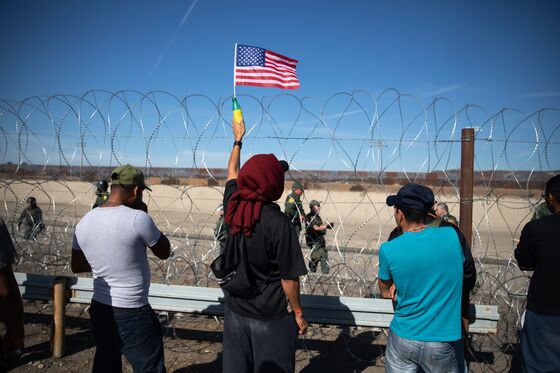 If lawmakers can't complete a handful of remaining spending bills by Dec. 7, funding will expire for several government departments, including Homeland Security and Justice. House Speaker Paul Ryan and other members of the Republican leadership are scheduled to meet Tuesday with Trump at the White House to plan out the rest of the congressional term.
Trump's position in the spending debate could harden further after his recent actions over the U.S. border with Mexico. They have included threatening to close it permanently in the wake of a confrontation between Central American migrants and Customs and Border Patrol agents at the busy San Ysidro port of entry between Tijuana and San Diego.
The wall was clearly on the president's mind Monday when he appeared at a campaign rally in Tupelo, Mississippi, to support the candidacy of GOP Senator Cindy Hyde-Smith, who faces a runoff in her re-election bid Tuesday.
"We want to finish the wall. We've got to get funding from Congress," Trump said the rally. "And if this isn't the right time to get funding, when you look at what's happening at the border, there will never be a right time. So we're going very strongly for funding for the wall."