Trump Disavows Violence by Backers He Egged On Before Riot
(Bloomberg) -- President Donald Trump called on Americans to unite and avoid further violence -- after the U.S. House of Representatives voted to impeach him for his role in a deadly riot by his supporters who stormed the Capitol.
"I unequivocally condemn the violence that we saw last week," Trump said in a video statement released by the White House Wednesday evening. "Mob violence goes against everything I believe in and everything our movement stands for. No true supporter of mine could ever endorse political violence."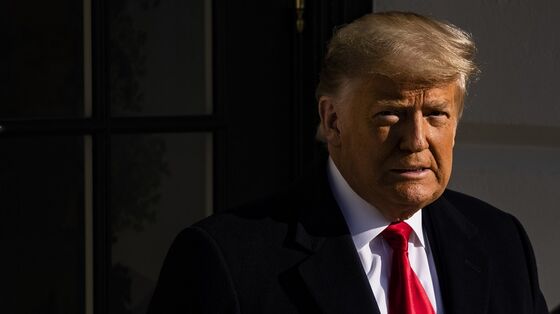 But Trump's condemnation came a week after the attack, and he didn't apologize or acknowledge President-elect Joe Biden. Trump also didn't offer sympathy for the victims, including the five people who died in the attack.
Trump's video didn't directly respond to his impeachment -- the second time the House has taken such a vote during his presidency. The impeachment marked an unprecedented public rebuke, clouding Trump's prospects for a potential return to politics just days before he leaves the White House.
The video statement signaled a shift in tone for Trump, who has rejected responsibility for the Jan. 6 riot. As the violence unfolded that day, Trump tweeted: "These are the things and events that happen when a sacred landslide election victory is so unceremoniously & viciously stripped away from great patriots who have been badly & unfairly treated for so long."
In Wednesday's video, Trump said: "Today I am calling on all Americans to overcome the passions of the moment and join together as one American people."
He acknowledged the possibility of additional violence, saying he'd been briefed by the U.S. Secret Service about "potential threats" in Washington and across the country.
"Whether you are on the right or on the left, a Democrat or a Republican, there is never a justification for violence," the president said. "No excuses, no exceptions. America is a nation of laws. Those who engaged in the attacks last week will be brought to justice."
Then he criticized major technology firms for, as he put it, an "unprecedented assault on free speech." Social media companies have responded to last week's violence in part by freezing Trump's own accounts, while purging others linked to conspiracy theories and threats.
"The efforts to censor, cancel and blacklist our fellow citizens are wrong and they are dangerous," Trump said.
Senator Lindsey Graham, a South Carolina Republican and Trump ally, said afterward that the president's video statement "hit the mark."
"He rejected violence, unequivocally condemned those who defiled our Capitol, called for full accountability, and emphasized those who engage in violence tarnish the movement," Graham, who has been critical of the latest impeachment proceedings, said in a statement posted on Twitter. "His speech helps move the country move forward."
Trump's impeachment was backed unanimously by House Democrats, as well as 10 Republicans, including Representative Liz Cheney of Wyoming who spoke out forcefully against the president's conduct. Trump becomes the only president in U.S. history to be impeached twice, and the move now sets up a Senate trial that will likely not conclude before Biden's inauguration.
The Capitol riot sparked a wave of resignations across the administration and prompted corporate leaders to suspend donations to Republicans who had peddled false allegations of widespread voter fraud.
Trump had defended the remarks to his supporters shortly before the riot began, saying they were "totally appropriate."
Earlier Wednesday, he released a statement that called for "NO violence, NO lawbreaking and NO vandalism of any kind," as thousands of troops were dispatched to Washington before Biden's Jan. 20 inauguration.
He has rejected calls to resign, and Vice President Mike Pence rebuffed a push by House Speaker Nancy Pelosi to invoke the 25th Amendment of the Constitution and oust the president.