Trump Claims 'Honest Vote Count' No Longer Possible in Florida
(Bloomberg) -- President Donald Trump continued to weigh in on Florida's mandatory recount in races for governor and U.S. Senate Monday, claiming without providing evidence that ballots "are missing or forged."
Trump said on Twitter that the elections should be called in favor of the Republican candidates -- who were leading on Election Night -- because "An honest vote count is no longer possible-ballots massively infected."
Florida's Senate and governor's races have gone to a recount because the Republicans' advantage in both races has fallen below the 0.5 percent threshold required to trigger mandatory machine recounts, Secretary of State Ken Detzner said in a statement on Saturday.
The move quickly drew rebukes from Trump and Rick Scott, the state's governor now vying to be a U.S. senator, who alleged that political opponents were trying to "steal" the election. Scott told Fox News Monday that there has been "no transparency" in a recount in which 93,000 ballots materialized after Election Day that weren't counted previously.
Trump is not in a position to limit the vote count in Florida. The state can't limit votes to those received by election night because it would disenfranchise Florida voters who are overseas, including military service members, who only have to mail their ballot by Election Day and have it arrive within 10 days, according to Florida's Department of State .
In the Senate race, the unofficial count had Republican Scott leading incumbent Democrat Bill Nelson by about 12,600 votes among roughly 8.2 million votes cast in the Nov. 6 election. In the race for governor, Republican Ron DeSantis led Democrat Andrew Gillum by about 33,700 votes.
Election workers on Saturday evening started a mad dash to recount by machine the millions of votes, in a task that some thought would be impossible to finish by the mandated deadline of 3 p.m. on Nov. 15.
The recount has been marked by allegations on both sides, particularly in the closest race for Senate. Scott called Nelson "a sore loser" in an interview on Fox Monday,, adding "he's just here to steal this election."
Nelson's campaign sent a video statement on Friday in which the senator said, "Scott is trying to stop all the votes from being counted and he's impeding the democratic process."
The Florida governor on Sunday sued to have voting machines, tallying devices and ballots seized in Broward and Palm Beach counties.
State elections officials said they had observers in Broward County and they hadn't found evidence of criminal wrongdoing. What's more, Detzner, whose office ultimately had to order the recount, is a Scott appointee.
The recounts will decide the fate of a crucial Senate seat and a governorship in a state that will also prove important in the 2020 presidential contest.
Scott declared victory on election night, but slow vote-counting in Democrat-leaning Broward and Palm Beach counties narrowed the race to within the margin that dictates a recount. DeSantis also declared victory -- and his opponent conceded -- when the outcome appeared set on election night.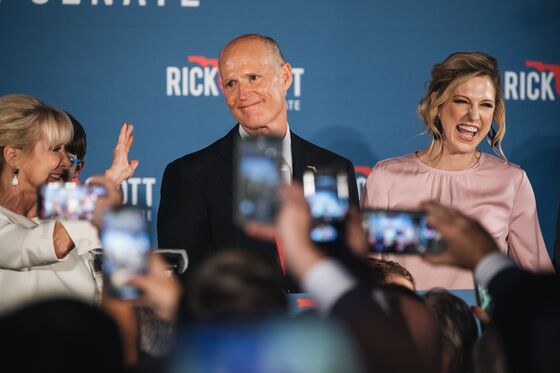 If a machine recount puts the results within a quarter of a percentage point, county canvassing boards would do a manual recount. Ballots from overseas civilians and members of the military will be counted if they're postmarked by Nov. 6 and arrive by Nov. 16. The official results of a manual recount would be due by Nov. 18.
Florida elections have a history of minuscule margins and allegations of improprieties at polling stations and in vote-counting. The 2000 presidential election was decided when the U.S. Supreme Court halted a Florida recount and made Republican George W. Bush the winner over Democrat Al Gore. That recount was marked by America's fixation on Florida's punch-card ballots, famed for their hanging chads, which are no longer in use.
Much has changed in Florida since then. In addition to more sophisticated voting technology, the Florida Election Reform Act of 2001 created a mechanism to automatically trigger a recount within a certain threshold. As such, trailing candidates don't actually have to request a recount, although they could refuse one.
The race for Florida's agriculture commissioner will go to a recount as well, with Democrat Nikki Fried now edging Republican Matt Caldwell by about 5,300 votes.