Trump Claims Again Biden Wrote Apology That Biden Denies
(Bloomberg) -- President Donald Trump claimed on Sunday that former Vice President Joe Biden wrote a letter to apologize for calling him xenophobic -- something Biden has repeatedly said is a lie.
Trump said during a "virtual town hall" event broadcast by Fox News that after he ordered China travel restrictions on Jan. 31, "They called me a racist, they said xenophobic."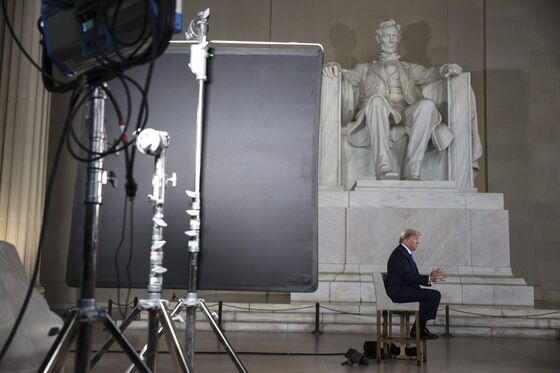 "Biden said, 'he was xenophobic,'" Trump said at the event, staged at the Lincoln Memorial in Washington. "Biden has now written a letter of apology because I did the right thing. I saved hundreds of thousands of lives."
Trump made the same claim at a March 25 "virtual town hall," also hosted by Fox News. The Biden campaign has previously denied that the former vice president wrote any such letter and referred back to those denials on Sunday. The White House didn't immediately reply to a request for the alleged letter.
On Jan. 31, after Trump ordered the travel restrictions, Biden said that the president has a "record of hysteria and xenophobia -- hysterical xenophobia -- and fear-mongering." Biden didn't speicifically call the travel restrictions racist, but said it was racist for Trump to call the disease the "Chinese virus."
Trump repeated the claim that Biden had written an apology letter later in the Fox broadcast. He was not challenged by the hosts, Bret Baier and Martha MacCallum.