China Hawks Gain Upper Hand as Trump Squeezes Beijing Over Trade
(Bloomberg) -- The China hawks in Donald Trump's orbit find themselves with the upper hand after the president turned the screws on Beijing for allegedly reneging on a key promise in high-stakes trade talks.
Trump's threat on Sunday to raise tariffs on billions in Chinese imports as the two sides neared what appeared to be a deal marked a victory for political allies who've long warned that the U.S. must take a tougher line with the world's second-largest economy.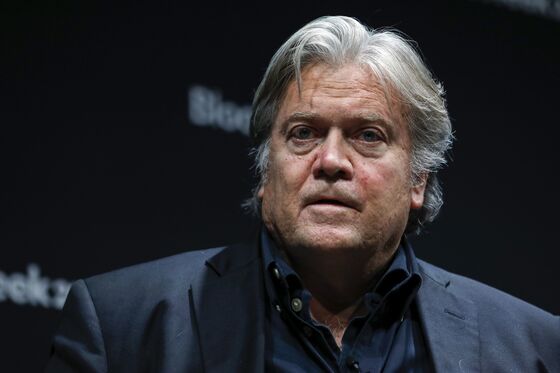 "With our country at a crossroads, it is more important than ever that Trump follow his instincts and not soften his stance against the greatest existential threat ever faced by the United States," former White House chief strategist Steve Bannon wrote in the Washington Post on Monday.
Even if the U.S. reaches a deal, Bannon said, the agreement would be only a "temporary truce in a years-long economic and strategic war with China." Bannon recently helped reconstitute a Cold War-era entity called the Committee on the Present Danger to focus on China.
Trump's aides have tried for some time to portray a unified front on China even as they have waged heated battles behind the scenes. But current and former administration officials say everyone's position has become more hawkish over time.
Treasury Secretary Steven Mnuchin and Trade Representative Robert Lighthizer told reporters on Monday that Trump's entire economic team agreed with the latest move to increase tariffs. Lighthizer said Chinese negotiators reneged on provisions in a draft deal the U.S. considered settled, and Mnuchin said there had been a "big change of direction" in the talks.
The developments raise the prospect that talks between the U.S. and China to resolve their trade war, now more than a year long, could collapse entirely. The administration's hawks, led by White House trade adviser Peter Navarro, have long regarded China as a hostile power waging economic war against the U.S. To them, no deal is better than a much-feared cave by the president and more dovish advisers such as Mnuchin, who closely watch effects of the negotiations on financial markets.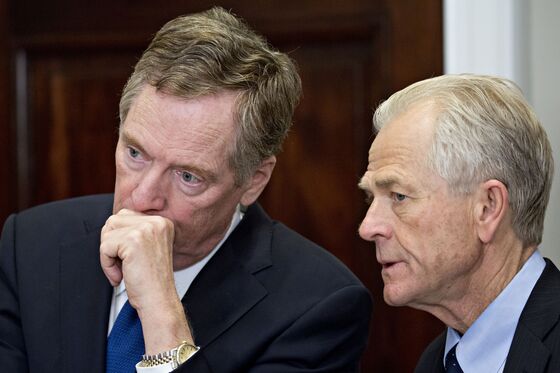 "The president's in a bind between two warring camps," said Clark Packard, trade-policy counsel at the R Street Institute, a Washington research group. "If the market takes a dive, he's going to face pressure from your more market-oriented folks, like Mnuchin. On the other hand, you have the hawks like Lighthizer and Navarro, telling him not to compromise."
The S&P 500 index has declined as much as 2.2 percent since Trump's tweets, while Chinese stocks have plunged 4.9 percent. Chinese equities finished higher on Tuesday following news that Beijing's top trade negotiator, Liu He, would still visit Washington, but the two-day slump wiped out $487 billion in value from the Shanghai Composite Index.
China is preparing retaliatory tariffs on U.S. imports should Trump carry out his threat, according to people familiar on the matter.
"If the Trump administration follows through with the tariffs threats on Friday, I think it means the talks fall apart," said Lu Xiang of the state-run Chinese Academy of Social Sciences in Beijing. "We then need to be prepared for worse than worst."
The White House's plan to raise tariffs has scrambled party loyalties in Congress, where many Republicans -- especially from farm-states hurt by Chinese counter-tariffs -- are skeptical of his trade policies. Trump has been cheered on, meanwhile, by Senate Democratic Leader Chuck Schumer of New York.
"If we hang tough, we can really make progress with China," Schumer said Monday.
Senate Agriculture Committee Chairman Pat Roberts, a Kansas Republican, said Tuesday after a meeting with Vice President Mike Pence that "there's a lot of feeling in farm country that we're being used as pawns in this whole business."
"We will benefit tremendously if he can get a good deal," Roberts said of Trump. "So we're hanging in there with the president, as opposed to hanging separately."
Trump has repeatedly postponed deadlines for a deal with China and the retaliatory tariffs that would follow in the absence of an agreement. That's been a win for Mnuchin and the president's top economic adviser, Larry Kudlow, who have warned of the market consequences if talks collapse.
But Lighthizer has assumed a higher profile in the negotiations as they have dragged on, and he currently has Trump's ear. The trade representative's views -- while not precisely in line with Bannon or Navarro, the author of a book titled "Death by China" -- are more hard-line than those of Mnuchin or Kudlow.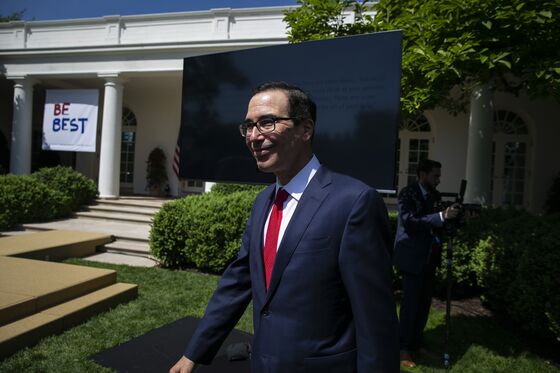 It was Lighthizer who prompted Trump's tweets on Sunday, after briefing the president on Chinese negotiators' alleged attempt to unwind provisions of the deal the U.S. considered settled during talks in Beijing last week, according to people familiar with the matter. The Chinese, the people said, declared they would not agree to change any of their country's laws, a position that would hamstring the Trump administration's effort to end Chinese practices it regards as theft of U.S. intellectual property.
The people asked not to be identified because the negotiations are sensitive and have been conducted in secret.
Lighthizer told reporters on Monday that the U.S. seeks meaningful changes in Chinese behavior on issues ranging from industrial subsidies to intellectual property theft, which he said had hurt the U.S. economy for years.
"These are not benign actions that we are objecting to," Lighthizer said. "These were pernicious actions that we were trying to correct."
For his part, Trump has tended to publicly side with his administration's hawks, famously declaring in a December tweet: "I am a Tariff Man." But he also regards the performance of the U.S. stock market as a sort of barometer for his presidency, and has encouraged his negotiators to reach a deal that would boost equities ahead of his re-election campaign in 2020.
"Ultimately, the president has to make 2020 about the economy, and one of the ways you can make the economy not so good is getting in a protracted, bloody battle with China," said Packard, who is a former aide to Trump's first UN ambassador, Nikki Haley.
The two sides in Trump's administration have sometimes openly sparred, especially Mnuchin and Navarro. Mnuchin cut Navarro out of meetings with Chinese negotiators during a Beijing trip last year. Navarro has publicly and pointedly said that Lighthizer should lead the talks, not the Treasury secretary. The various trade advisers' influence can also rise and fall due to unrelated political developments.
Mnuchin's standing has suffered, for example, because of Trump's anger at Federal Reserve Chairman Jerome Powell, whose appointment the Treasury secretary recommended. Kudlow's credibility took a hit after he recommended Trump name Herman Cain and Stephen Moore to the Fed board; both picks flamed out before their nominations were submitted to the Senate.