Trump Casts Doubt on North Korea Summit in Meeting With Moon
(Bloomberg) -- President Donald Trump cast doubt on Tuesday as to whether his planned summit with North Korean leader Kim Jong Un will take place as scheduled on June 12.
"There's a chance, a very substantial chance, it won't work out," Trump said Tuesday during an Oval Office meeting with South Korean President Moon Jae-in.
"I don't want to waste a lot of time and I'm sure he doesn't want to waste a lot of time," he said of Kim. "So there's a very substantial chance it won't work out and that's OK. That doesn't mean it won't work out over a period of time."
Moon's visit to the White House -- three weeks ahead of Trump's scheduled June 12 summit in Singapore with Kim -- comes amid renewed uncertainty about Kim's intentions. Kim declared "an era of peace" at an April meeting with Moon but Pyongyang abruptly canceled a subsequent round of talks last week, pinning the decision on the U.S. and South Korea moving ahead with long-planned military exercises.
The North Koreans also voiced concern about Trump National Security Adviser John Bolton's suggestion that North Korea would follow the "Libya model" of arms control. After surrendering his country's nuclear program in exchange for an easing of economic sanctions, Libyan dictator Muammar Qaddafi was overthrown and killed by U.S.-backed rebels.
Trump said Tuesday that the U.S. is prepared to guarantee Kim's safety as part of a deal aimed at denuclearizing the Korean peninsula. If they reach an accord, Kim "will be very proud" of what he did for North Korea 25 years in the future, Trump said.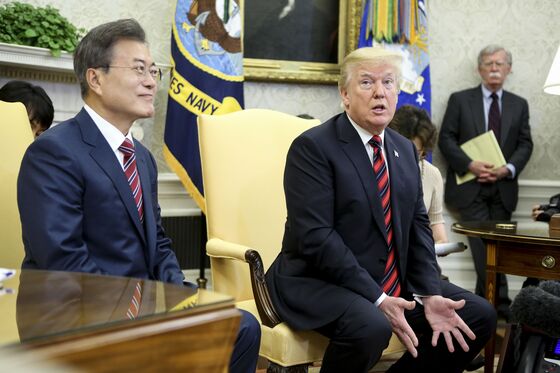 North Korea 'Will Be Rich'
"South Korea, China and Japan -- and I've spoken to all three -- they will be willing to help and I believe invest very, very large sums of money into making North Korea great," said Trump. "His country will be rich."
While Trump has previously acknowledged uncertainty around the planned summit, his remarks Tuesday went further by suggesting that the meeting could fall apart.
"Whether or not it happens you'll be knowing pretty soon," Trump said. "If it doesn't happen, maybe it will happen later."
Trump has otherwise been publicly insistent that the Kim meeting will take place, though he has privately expressed concerns about the risks of moving ahead with the summit, the New York Times reported Sunday. Moon has long been an advocate of engagement with North Korea and intended to use his session with Trump to keep the U.S. president on board.
The biggest sticking point appears to be the definition of denuclearization. U.S. officials have repeatedly said they expect North Korea to accept "complete, verifiable, irreversible disarmament," while Pyongyang is seeking a phased process that could include a reduced U.S. military presence in the region.
Denuclearization "all in one would be a lot better" than in phases, Trump said Tuesday.
Moon continued to express optimism during the Oval Office meeting.
"I am very much aware there are many skeptical views" in the U.S. about whether the summit will be successful, Moon said through an interpreter. "I have every confidence that President Trump will be able to achieve a historic feat."