Trump to Hold 14 Rallies in Three Days to Close Out Campaign
(Bloomberg) -- President Donald Trump plans to hold 14 campaign rallies in three days beginning Saturday as he tries to make up ground against Democratic nominee Joe Biden and pull out another surprise victory.
Trump will rally in four Pennsylvania towns on Saturday; in Michigan, Iowa, North Carolina, Georgia and Florida on Sunday; and again in North Carolina, Pennsylvania and twice in Michigan on Monday, as well as in Wisconsin, according to a schedule his campaign issued Friday.
Trump trails Biden by about 7.8 points on average in national polls, according to RealClearPolitics, but the race is tighter or in some cases effectively tied in polls of the states Trump is targeting with his final rallies.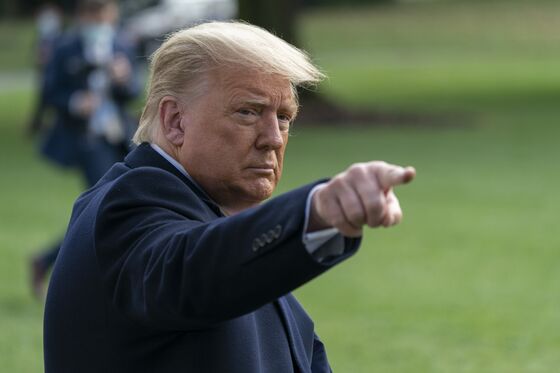 The president has leaned heavily on his trademark rallies to close the gap with Biden since recovering from Covid-19 earlier this month. His campaign has badly lagged his challenger in fundraising since August, allowing Biden to blanket the airwaves in battleground states with television ads.
Biden does not hold large campaign events because of the coronavirus pandemic. Trump has faced criticism from state and local officials and public health authorities for gathering thousands of his supporters to the rallies, largely without any public health precautions.
"We're doing a lot of traveling. We'll be doing a lot of rallies. We have some big ones," Trump told reporters on Friday before leaving for a three-rally swing in the upper Midwest.
"Biden goes there and he can't draw flies," he added. "He can't draw anybody. Just a few cars, I guess, and they honk their horns. We got the biggest crowds in the history of politics."
On election night, Trump will likely stay at the White House instead of attending a party at his namesake hotel in Washington, according to a person familiar with his plans.
Trump was slated to appear at the Trump International Hotel but those arrangements are now in flux, according to four people familiar with the situation, who asked not to be named to discuss plans not yet public.
"We haven't made a determination. We have certain rules and regulations," Trump told reporters on Friday. "You know, Washington, D.C., is shut down. They mayor has shut it down. So, we have a hotel. I don't know, if it's shut down, if you're allowed to use it or not."
Trump's change in plans was earlier reported by the New York Times.
Biden will travel to Iowa, Minnesota and Wisconsin on Friday, and is planning to spend all day Monday in Pennsylvania, along with his running mate Kamala Harris. The Keystone State is regarded by both campaigns as the likeliest to decide a close election, and the former vice president holds only a 3.6 percentage point lead there on average, according to RealClearPolitics.