Trump Calls for End to 'Ridiculous, Partisan Investigations'
(Bloomberg) -- President Donald Trump issued a pointed warning to Democrats that "foolish wars, politics or ridiculous partisan investigations" risk standing in the way of an "economic miracle" that's happening in the U.S.
"If there is going to be peace and legislation, there cannot be war and investigation," Trump said Tuesday night in the State of the Union address. "It just doesn't work that way."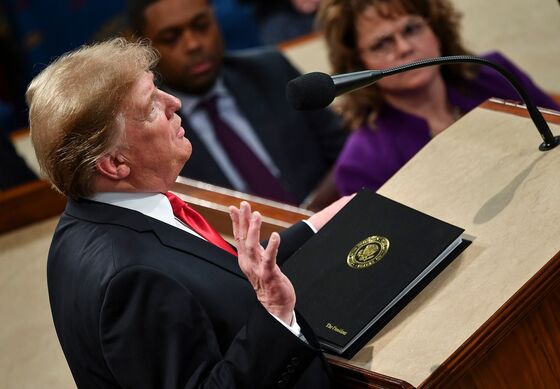 The remarks were met with loud cheers from Republicans and audible groans from some Democrats in the House chamber.
House Democrats have said they'll pursue a number of investigations into the actions and policies of the Trump administration, including its policy of separating migrant families at the border and potential conflicts of interest for several Cabinet members.
They've also pledged to reopen an investigation into whether Trump and his associates colluded with Russia in the 2016 presidential election. Special Counsel Robert Mueller has been running his own probe into Russian meddling since May 2017.
House Speaker Nancy Pelosi's office posted a response to Trump's remark on Twitter.
"Sorry, sir. But Article 1 of the Constitution is the legislative branch. And it has the responsibility to exercise oversight of the other branches of government. We would be delinquent in our duties if we failed to provide the necessary oversight," her office said.