Trump Brings His Wrecking-Ball Style to Europe
Donald Trump hadn't even touched down in the U.K., and he was already sowing his signature brand of discord.
The president had little to lose by stoking a long-running feud with London Mayor Sadiq Khan, but his interactions with European leaders during his four-day trip to England, Ireland and France have the potential to further alienate core U.S. allies.

In the U.K., Trump will mostly be occupied by pomp and ceremony, starting today with events at Buckingham Palace with Queen Elizabeth II and other members of the royal family. That didn't stop him weighing in on Brexit and the succession battle sweeping the ruling Conservative Party.

By now, British politicians are used to Trump, who is being met with a fresh round of protests. They're also aware that a trade deal with the U.S. will be a key priority if and when the U.K. ever leaves the European Union.

It may be a different story in France, where Trump will see President Emmanuel Macron and join D-Day commemorative events also attended by German Chancellor Angela Merkel. Both have bristled at Trump's attacks on EU trade policy and his interference in their respective domestic affairs.
The ceremonies marking the 75th anniversary of the Normandy landings could serve as a reminder to the U.S. leader of the value of having friends in turbulent times.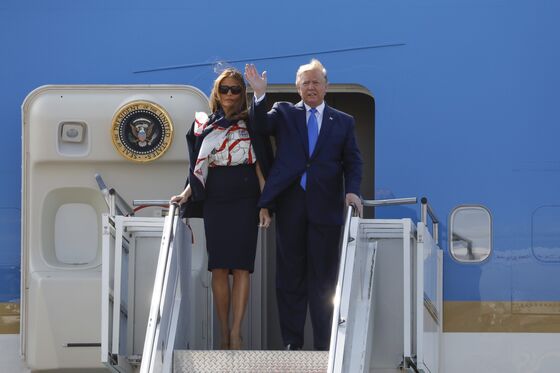 Catch-22 in Berlin | Germany's Social Democrats are getting hammered by voters for propping up Merkel in another coalition. But if they pull out and trigger an election now, with poll support down at about 12%, they risk being decimated. Party leader Andrea Nahles couldn't resolve that dilemma and quit yesterday. The party leaderships of the SPD and Merkel's CDU meet separately in Berlin today to work out their next steps.

Sudan crackdown | Sudanese gunmen moved today to crush a long-running sit-in in the capital, Khartoum, where protesters demanded the military surrender power to a civilian government. Hundreds of people fled the location, with reports of at least 12 deaths and many wounded. Protesters first gathered in early April to call on the army to support their uprising that ousted veteran President Omar al-Bashir.
Gloves come off | Joe Biden's main competitors for the 2020 Democratic presidential nomination have shed the collegiality of the race's early stages to try to knock the former vice president off his front-runner's perch. Biden was absent from this weekend's first major gathering of Democratic hopefuls. But his presence was felt as his rivals took unmistakable jabs at his core pitch as a moderate who'll return to governing by consensus-building.
Mideast push | Jared Kushner, the presidential adviser and son-in-law leading White House efforts on a Mideast peace plan, declined to promise the Palestinians an independent state, saying they aren't yet able to govern themselves. Kushner made the comments in an interview with Axios yesterday as Secretary of State Michael Pompeo said the U.S. would be ready to negotiate with Iran without preconditions, even as an American fighter bomber and aircraft carrier practiced strike operations in the Arabian Sea.

Reluctant allies | China is used to the U.S. and its Asian allies complaining about Beijing's influence. But as Iain Marlow and Philip J. Heijmans report, Asian defense chiefs used the annual Shangri-La Dialogue in Singapore to criticize the Trump administration's attacks on China and escalating trade war. "What is at stake is the existing global order," said Singapore's Defence Minister Ng Eng Hen.
More personnel changes are afoot in the White House, as Trump announced Kevin Hassett, a fixture of conservative economic circles for two decades who vigorously defended the president's signature tax cuts, will soon depart as chairman of the White House Council of Economic Advisers.
The U.S. National Transportation Safety Board is conducting a far-reaching review of how Boeing certified the 737 Max system that's been involved in two crashes, Alan Levin exclusively reports.
Italian Prime Minister Giuseppe Conte will today issue an "ultimatum" to the quarreling deputy premiers who control the governing coalition: work effectively together or I'll quit.
And finally ... Trump isn't the only president waging a war against what he sees as fake news. Jair Bolsonaro's supporters have set up a nerve center aimed at influencing social media debate over the Brazilian president's ambitious pension reform proposal. The war room installed in Congress supplies lawmakers, analysts and even media influencers with all sorts of pro-reform material — from charts to videos to internet memes.