Trump Impeachment Trial Heads Toward Verdict as Soon as Saturday
(Bloomberg) -- The Senate impeachment trial of former President Donald Trump is headed toward a verdict that could come as soon as Saturday after the defense presented its case and senators questioned both sides on the charges and their arguments.
With most Republicans appearing to hold firm against convicting Trump, the defense spent barely three hours of the 16 hours they were allotted to disparage the House impeachment managers' case as "constitutional cancel culture" aimed at silencing both the former president and his millions of supporters.
"Let's be clear, this trial is about far more than President Trump. It is about silencing and banning speech the majority does not agree with," attorney Bruce Castor said. "It is about canceling 75 million Trump voters and criminalizing political viewpoints."
The Senate trial reconvenes at 10 a.m. Saturday. The rules for the trial allow for two hours of closing arguments and debate on any request from the House prosecutors or the defense to hear from witnesses. Neither side has indicated they plan to call witnesses.
The Senate could move quickly toward a vote on the verdict. It would take a two-thirds majority to convict the president, meaning at least 17 Republicans would have to join with all Democrats and independents for the House impeachment managers to prevail. If Trump were to be convicted, there would be a second vote on whether to bar him from ever holding office again.
Trump was impeached by the House on a charge of inciting an insurrection after a mob of his supporters stormed the Capitol on Jan. 6 in a deadly riot aimed at stopping the formal count of Electoral College votes that certified Democrat Joe Biden's victory in the presidential election.
Trump's team argued that his incendiary words to the crowd before the siege at the Capitol was ordinary political speech and fell short of the legal standard for incitement. The Senate moved afterward into a question-and-answer period with senators posing written queries to each side.
Democrats have portrayed Trump's call for his supporters to "fight like hell" before they broke into the Capitol as the then-president's last-gasp bid to stay in power. The House impeachment mangers spent two days portraying Trump as lawless and unrepentant, arguing that he shouldn't hold public office again.
Trump's team had little response to prosecutors' criticism of the former president for failing to call on his supporters to leave the Capitol once the attack began.
Lawyer Michael van der Veen brushed aside a question from Republican senators Susan Collins and Lisa Murkowski on what actions Trump took once the attack began, saying, "with the rush to bring this impeachment there's been absolutely no investigation into this."
Trump's defense highlighted episodes in which Democratic political figures used inflammatory rhetoric, including a lengthy video of numerous Democrats using the words "fight" or "fighting" in political speeches.
They also showed Democrats challenging electoral votes after several recent presidential elections. They featured lawmakers, including lead impeachment manager Jamie Raskin, objecting to the counting of votes in January 2017 after Trump's election, and President Joe Biden, then in his role as vice president, repeatedly gaveling them down as out of order.
Trump lawyer David Schoen decried "the hatred, the vitriol, the political opportunism that has brought us here today." He blamed the impeachment on "hatred, animosity, division, political gain – and let's face it, for House Democrats, President Trump is the best enemy to attack."
Senator John Thune, the No. 2 GOP leader, said he questions whether the strategy of showing videos of Democrats using inflammatory language would be effective.
The South Dakota lawmaker told reporters, "I'm not sure it bears a lot on this case" and the defense team should address Trump's actions on Jan. 6 and during the Capitol attack.
The Senate's No. 2 Democrat said he saw little indication that many Republicans would back conviction.
"Many of them are loyal to Donald Trump even to this day, despite what he may have said about them or their families in the past," Senator Dick Durbin of Illinois said in an interview Thursday with Bloomberg Television. "And more of them are afraid of Donald Trump's political power."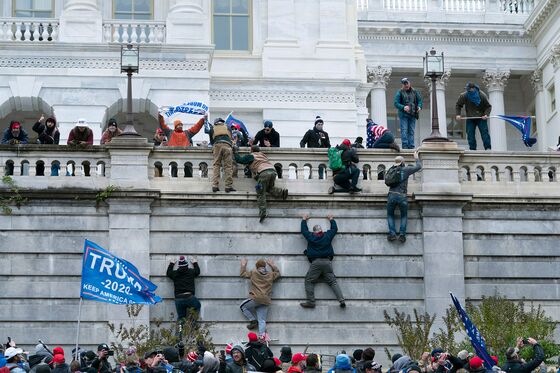 House managers meticulously highlighted Trump's own tweets, speeches and comments to argue that his months-long campaign to stoke anger about the Nov. 3 election he lost to Biden -- including attempts to overturn the results with "the big lie" that the vote was stolen -- inevitably culminated in the riot he did nothing to prevent or stop.
"Senators, America, we need to exercise our common sense about what happened," Raskin said in the Democrats' final arguments. "Let's not get caught up in a lot of outlandish lawyers' theories here. Exercise your common sense about what just took place in our country."
While Schoen called the process partisan, Democrats have cited condemnations of Trump's actions by Republicans, including the 10 House members, led by Representative Liz Cheney, one of the chamber's GOP leaders, who voted to impeach him.