Trump Becomes GOP Obstacle in Border Talks as Shutdown Looms
(Bloomberg) -- Republican lawmakers negotiating a border security deal to avoid another partial government shutdown are running into an increasingly familiar obstacle: President Donald Trump.
With two weeks left to pass funding bills that keep federal agencies open, Trump is making comments that appear to foreclose possible compromises by saying anything short of a wall is a waste of time -- even as Democrats suggest they're open to spending billions more on border security and new fencing.
"It obviously makes it more challenging," said Texas Republican John Cornyn, an adviser to Senate Majority Leader Mitch McConnell. "We keep talking and try to understand where he is and try to work it out."
At stake is the possibility of another government shutdown, and Trump's campaign promise to build a wall on the U.S.-Mexico border. Congress last week voted to reopen the government temporarily -- after a partial shutdown lasted five weeks -- to give lawmakers on a House-Senate conference committee time to negotiate a border security plan.
Two years into his term, Trump has built a track record of killing congressional deals.
Last year, he blew up a bipartisan agreement to provide deportation protections for young immigrants brought to the U.S. illegally by their parents in exchange for $25 billion in wall funding, demanding that controversial cuts to legal immigration be added. In December, he precipitated the shutdown by withdrawing support for a two-month stopgap spending bill that had already passed the Senate unanimously.
At times, Trump has appeared willing to accept some new fencing as a resolution to his demand for $5.7 billion for the wall. At other times, however, he says he will only accept a wall. Making matters more complicated, the president has described existing fence and levee projects on the border as a wall.
Top Republican negotiator Senator Richard Shelby of Alabama said the involvement of Trump -- and House Speaker Nancy Pelosi -- complicates negotiations.
"If left alone, we could probably work this out before the end of the week but that's not the case right now because the speaker is involved and the president is involved, he said.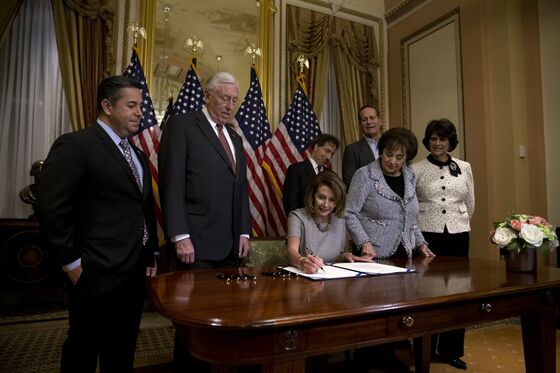 Trump has also floated the idea of declaring a national emergency and bypass Congress to get funds for the wall.
"On Feb. 15th, the committee will come back and if they don't have a wall, I don't even want to waste my time reading what they have because it's a waste of time," Trump said in the Oval Office on Thursday. "Because the only thing that works for security and safety for our country is a wall."
In an interview with the New York Times, published Thursday night, the president said the talks would likely be fruitless and that he may pursue a solution on his own.
Earlier in the day, Trump tweeted that Republicans on the committee are "wasting their time. Democrats, despite all of the evidence, proof and Caravans coming, are not going to give money to build the DESPERATELY needed WALL."
That was a shift from earlier in the week when Trump called for either a wall or a "physical barrier" as part of the deal.
Pelosi reiterated on Thursday that she won't fund a "wall," but she signaled flexibility on fencing.
"There's not going to be any wall money in the legislation," she told reporters.
However, there already are vehicle barricades known as Normandy fencing along the border, and, Pelosi said, "if the president wants to call that a wall, he can call it a wall."
"Is there a place where enhanced Normandy fencing would work?" she asked, adding that members of the bipartisan conference committee should "have that discussion."
Similar hints of compromise came from top Democratic negotiator Nita Lowey of New York, chairwoman of the House Appropriations Committee. She didn't rule out new fencing money. Representative Henry Cuellar, a Texas Democrat, said some new fencing could be possible if local authorities can control where it goes.
House Democrats on Thursday provided a detailed offer that would provide no funds for border barriers, though it shows the party is willing to provide billions in new money for technology and personnel.
The Democrats' offer includes $98 million for 1,000 new customs officers, $675 million for more imaging technology at land ports of entry, $400 million for other border technology procurement and $502 million for humanitarian aid for migrants.
The president hasn't made clear to Republicans the details of his position, complicating negotiations. Asked if she understands Trump's stance clearly enough to make a deal, Republican Senator Shelley Moore Capito of West Virginia said, "We're trying to get there."
"We're going to move forward, and I think that we should," she said. "I think we should reach resolution. I think we can still get there. It might be barriers or fencing or levees and things of this nature."
John Thune of South Dakota, the Senate's No. 2 Republican, dismissed Trump's tweet suggesting the talks are a waste of time.
"The substance of his tweet is wrong," Thune said. "These are serious negotiations and our members who are at the table are intent on getting a result."
Some Democrats said Trump will be responsible for a second shutdown if he won't go along with a bipartisan deal.
"He's not supreme dictator," said Senator Jon Tester, a Montana Democrat who is on the conference committee. "I know we're probably an annoyance to him, but too bad. That's how democracy works."
The next meeting of the main negotiators is expected early next week while staff members plan to trade offers over the weekend. Lawmakers are trying to arrange border-security specialists to talk to the conference committee. Pelosi said the panel needs to complete an agreement by Feb. 8 to get it through Congress by Feb. 15.
Senator John Kennedy, a Louisiana Republican, said a deal will come together if Pelosi agrees to some type of barrier.
"It might be a 'wall,' it might be 'infrastructure,' it might be 'a barrier,' it might be 'a wangdoodle' for all I know," he said. "She can call it what she wants."
Senate Republicans said they are eager to move beyond the threat of another shutdown and are hoping Trump will seal a deal.
"I don't think another government shutdown is going to help anybody," said Senator Ron Johnson, a Wisconsin Republican. "It's a lose-lose-lose situation."