Trump Balks at Voicing Confidence in Barr After Election Remarks
(Bloomberg) -- Donald Trump declined to express confidence in his attorney general, William Barr, who said in an interview this week that the Justice Department has no evidence of widespread fraud in the Nov. 3 election the president claims was rigged.
"Ask me that in a number of weeks from now," Trump said Thursday at the White House in response to a question about whether he retained confidence in Barr. "They should be looking at all of this fraud."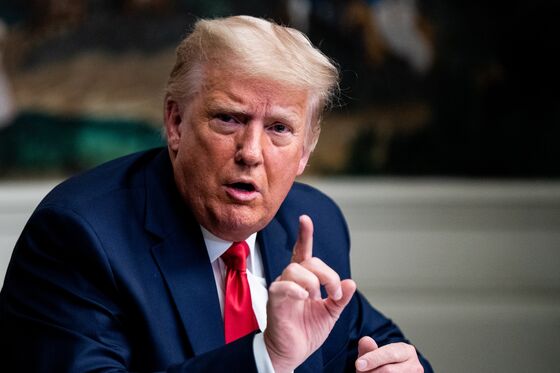 Barr said in an interview with the Associated Press on Tuesday that "we have not seen fraud on a scale that could have effected a different outcome in the election." The same day, Barr was at the White House for what the Justice Department said were previously scheduled meetings.
Barr last month authorized the department to open inquiries into "substantial allegations" of voter fraud, even though little evidence had emerged. But the president told reporters on Thursday Barr hadn't even bothered to look for proof, saying "he hasn't done anything."
Justice Department spokeswoman Kerri Kupec declined to comment on what Trump said Thursday about Barr.
Barr's remarks contradicted claims by Trump, who appeared to respond Wednesday with a 46-minute taped speech he posted on Facebook in which he repeated his unfounded claims that Democrats had somehow fraudulently engineered his defeat. The speech, delivered from the White House without an audience or journalists present, repeated claims that have been rejected in court, as well as more outlandish conspiracies that his lawyers have not presented to judges.
Trump's criticism of Barr on Thursday came after he awarded the Presidential Medal of Freedom to former football coach Lou Holtz. The ceremony was held inside a crowded Oval Office where few attendees -- including Senator Lindsey Graham, White House counsel Pat Cipollone and Director of National Intelligence John Ratcliffe -- wore masks. Also attending without a mask was Andrew Giuliani, a White House aide who tested positive last month for Covid-19; he's the son of Rudy Giuliani, the the president's personal attorney.
The president has largely kept silent about the coronavirus pandemic, focusing his public comments on unfounded claims that his November loss to Joe Biden was unfair. A record 2,836 people died from the virus on Wednesday and the 205,000 new cases recorded were almost identical to the record set five days earlier, according to data compiled by Bloomberg.
The ceremony for Holtz was held roughly two weeks after the former Notre Dame coach said he tested positive for coronavirus.