Trump Backs Italy on Immigration After Rough Week on Budget
(Bloomberg) -- President Donald Trump threw his weight behind Italy's immigration policy, offering support to the coalition government which has had a bruising week over its budget.
"Just spoke with Prime Minister @GiuseppeConteIT of Italy concerning many subjects, including the fact that Italy is now taking a very hard line on illegal immigration," Trump said on Twitter. "I agree with their stance 100%, and the United States is likewise taking a very hard line on illegal immigration."
Italian Deputy Premier Matteo Salvini has clashed with the European Union over migration and greatly increased his popularity in opinion polls in Italy by making it his top issue.
Tensions came to a head over the summer when he prevented 177 migrants rescued at sea by an Italian coast guard ship from disembarking until other EU member states agreed to take some. He and other members of his governing coalition have threatened to suspend EU budget contributions if the burden of migrants isn't shared.
Trump's comments come days after Italy was hit with a ratings downgrade and the government's budget was rejected by the European Commission. But the administration, ignoring a rise in bond yields, is sticking to its guns and doesn't intend to shift from plans to let the deficit widen next year. For European authorities and investors, that's an issue given Italy's huge debt burden.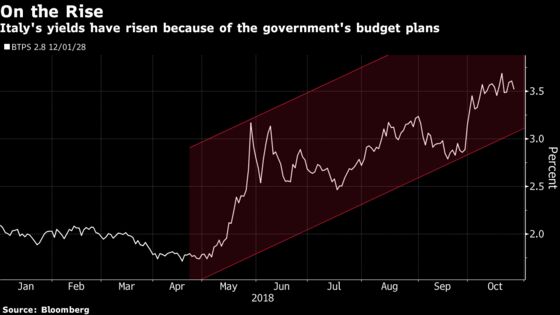 The coalition government -- made up of Salvini's League and Luigi Di Maio's Five Star -- has proposed a budget that wants to reverse post-crisis austerity and improve the living standards of the less well off.
Trump also offered his take on Rome's economic program. "The prime minister is working very hard on the economy of Italy - he will be successful!" he said in his Twitter post.
Speaking in Paris on Thursday evening, Italy's Finance Minister Giovanni Tria, seen as a calming influence within the administration, defended the fiscal plans. He also said it was right that governments question the existing framework and Italy's position was in no way a suggestion that it wants to leave the euro.
"It's time to reverse the focus on financial stability that rightfully prevailed during the crisis and to focus instead on growth to ensure both financial and social stability," Tria said. "We must invest to generate more growth and we must face the economic and social challenges."