Trump-Backing Super PAC Runs Ads Attacking Biden on China
(Bloomberg) -- President Donald Trump's designated Super PAC America First is releasing television ads in key battleground states attacking presumptive Democratic nominee Joe Biden's criticism of Trump's January move to tighten travel restrictions from China as the coronavirus pandemic showed signs of spreading.
The ads are part of America First Action's $10 million investment through the end of May, the group said. The group says that it has polling that shows 78% of Americans support policies to increase the U.S.'s manufacturing capacity and reduce economic reliance on China.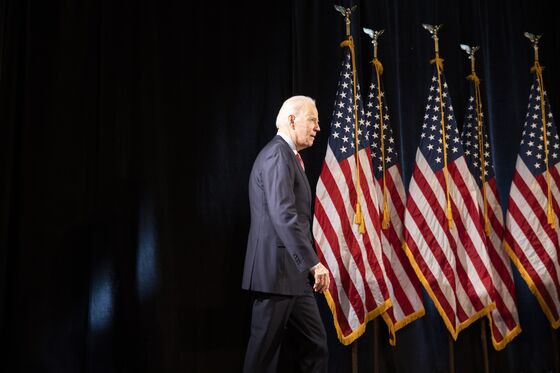 In an ad airing in Wisconsin, a narrator says "Communist China hid their outbreak from the world, silenced their doctors, shut down investigations and blamed America," it then cuts to video of Biden saying, "This is no time for Donald Trump's record of hysteria, xenophobia."
Trump has toughened criticism of China in recent weeks, after initially praising the country's response to the virus. Covid-19 has sickened over 1 million Americans and killed more than 63,000. It has also shattered the U.S. economy, once the centerpiece of Trump's re-election argument.