Trump Begins Paris Visit With Attack on Emmanuel Macron
(Bloomberg) -- President Donald Trump began a weekend visit to Paris with an attack on his French counterpart, Emmanuel Macron, for proposing Europe create its own continental military force.
Trump sent a tweet calling Macron's proposal "very insulting" as the U.S. president's plane landed Friday evening for celebrations with world leaders commemorating the 100th anniversary of the end of World War I.
Macron this week said in a radio interview that a "strong and sovereign Europe" was needed to defend the continent's interests against China, Russia and "even the U.S."
"We can't defend Europe if we don't have a real European army," he said. "We must have a Europe that can defend itself more, without just relying on the U.S."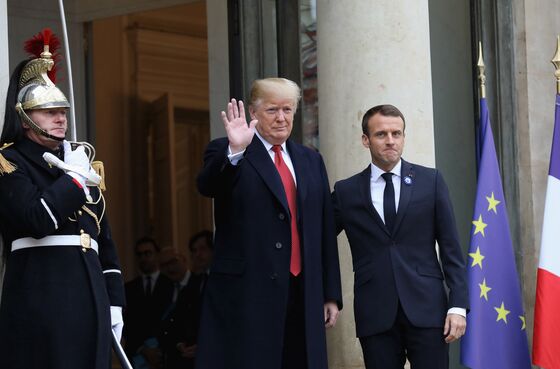 Trump is scheduled to meet with Macron on Saturday. Most of the rest of Trump's trip will be devoted to events marking the World War I anniversary, including an Armistice Day ceremony at the Arc de Triomphe and a luncheon for leaders at the Élysée Palace.
A French official told reporters on Saturday that Trump seemed to have conflated two separate subjects, and that Macron would explain his position to the U.S. president.
Trump has demanded that NATO countries spend more on their own defense and has questioned whether the U.S. should remain in the alliance. Macron and German Chancellor Angela Merkel have both publicly questioned whether Europe can depend on the U.S. to come to its aid in the event of war.
Macron has criticized Trump's plan to withdraw from the 1987 Intermediate-Range Nuclear Forces Treaty, which the U.S. says Russia has violated. Europe is the "main victim" of Trump's decision, Macron said in remarks made as he toured World War I battlefields ahead of the centenary of the Nov. 11 armistice, according to the Wall Street Journal.
Trump and Macron also have extensive differences over trade and U.S. sanctions on Iran.
However, for all the genuine points of contention, Macron's comments on stronger European defense cooperation were not intended to add to them. His stance is not new and he did not suggest that military forces should be directed against the U.S. And while greater European autonomy in all spheres is a focus for both Macron and Merkel, they are a long way from achieving it.
Speaking to reporters, the French official stressed that Macron has said Trump's withdrawal from the INF treaty concerns Europe and threatens European security, and therefore Europe should be involved in that decision, but that's a separate point from Europe's need to create an autonomous military force. Macron's point is the army is needed so that Europe doesn't solely rely on the U.S. against threats from the east. The comment on the army was never intended to say Europe had to protect itself from the U.S., the French official said.
While in Paris, Trump will see Russian leader Vladimir Putin for the first time since their summit earlier this year in Helsinki, though White House officials downplayed the encounter, saying Trump doesn't plan extensive talks with Putin over a weekend that mostly will be devoted to ceremonies.
Trump drew bipartisan criticism after the Helsinki summit for suggesting he believed the Russian president's denial of election interference over the assessment of his own intelligence community. The pair are expected to meet during the G-20 meeting later this month in Argentina, and the White House has invited Putin to visit Washington.
Other possible encounters to watch include Trump's interaction with Turkey's President Recep Tayyip Erdogan, amid badly strained ties over security and economic issues. In particular, there is a growing rift over Iran sanctions.
The Trump administration reimposed sanctions on Iran over international opposition, blacklisting hundreds of Iranian firms and individuals. The sanctions stem from Trump's efforts to exit or renegotiate an international deal struck during President Barack Obama's administration offering economic relief in exchange for a freeze of Iran's nuclear weapons program.
Macron and other European leaders have repeatedly criticized Trump's efforts to undermine the deal, and have sought to create a special mechanism that would allow the bloc to avert U.S. sanctions and continue trading with Iran. That effort hasn't yet yielded results, and the Trump administration has warned that countries hosting a so-called "special purpose vehicle" to subvert the sanctions could face penalties themselves. European leaders say maintaining trade ties is essential to keep Iran from exiting the deal and restarting development of nuclear weapons.
Earlier this summer, Trump imposed steel and aluminum tariffs on Europe, which retaliated with similar duties on American products including bourbon and Harley-Davidson motorcycles. In July, Trump and European Commission President Jean-Claude Juncker announced they would halt the tit-for-tat penalties and proceed with additional negotiations.
Trump has criticized existing European tariffs and regulations on autos, and has said he believes it's unfair that barriers are higher for American auto manufacturers seeking to sell in Europe. But the elimination of tariffs could have an acute impact on French companies including Renault SA and PSA Group, the maker of Peugeot and Citroen vehicles, who don't sell cars in the U.S. but would face increased competition in their home markets.
In addition to his meetings with Macron, Trump is expected to visit the Belleau Wood battlefield and American cemetery on Saturday, and speak at a Veterans Day ceremony Sunday at the Suresnes American Cemetery.