Trump Asks GOP Voters to Elect Mississippi Senator After Stumble
(Bloomberg) -- President Donald Trump urged Mississippi Republicans to turn out for Senator Cindy Hyde-Smith, who was expected to cruise to victory in Tuesday's runoff election before a series of racial issues complicated her campaign.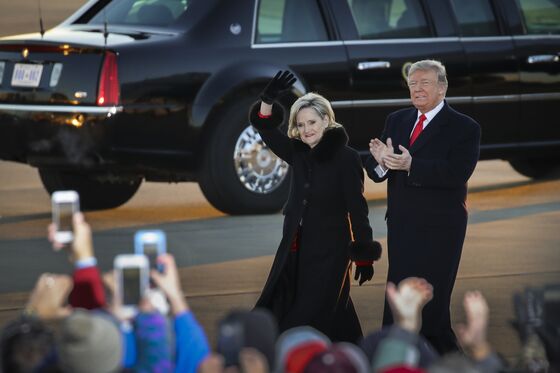 "Your vote on Tuesday will decide whether we build on our extra achievements or whether we empower the radical Democrats to obstruct our progress, reverse our gains and return to the failures of the past," Trump said at a rally in Tupelo, Mississippi.
Corporate donors including Walmart Inc. and Pfizer Inc. have demanded that Hyde-Smith return their campaign contributions after she remarked earlier this month that she'd take a front-row seat at a "public hanging," evoking the state's ugly history of lynchings. Her opponent, former Representative Mike Espy, is black.
On Friday, the Jackson Free Press reported that Hyde-Smith graduated from a "segregation academy" established for white parents so they could avoid sending their children to schools with black students. She later sent her own daughter to a similar school, the newspaper reported.
Hyde-Smith offered a qualified apology for her "hanging" remark in a recent debate, but complained her political opponents had twisted her words.
Before he left Washington on Monday, Trump said he had spoken with Hyde-Smith about the remark.
"She felt very badly," he said. "It was taken a certain way, but she certainly didn't mean it. And as I understand it, she's already apologized and very strongly."
The Mississippi contest, scheduled after neither Hyde-Smith or Espy won an outright majority in the midterm election earlier this month, is the last outstanding Senate race of 2018. Should Hyde-Smith win, Republicans will expand their Senate majority to 53 seats next year.
The contest has drawn comparisons to the Alabama Senate special election in December 2017, when Democrat Doug Jones won a narrow victory against Republican Roy Moore, who was accused by multiple women of sexually assaulting them when they were teenagers.
But in Mississippi, the only state that still has Confederate insignia on its flag, allegations of racism don't carry the same political toxicity as accusations of sexual impropriety that involve minors. The last Democrat the state sent to the Senate was ardent segregationist John Stennis in 1982 for last term of his four-decade career.
Hyde-Smith won 41.5 percent of the vote in the four-candidate election Nov. 6, to Espy's 40.6 percent. But a second Republican, Chris McDaniel, drew 16.4 percent, illustrating the challenge the Democrat faces.
Trump is scheduled to hold a second rally later Monday in Biloxi, Mississippi.