Trump and Pelosi Set Collision Course on Immigration Policy
(Bloomberg) -- President Donald Trump's hardening line on immigration sets him on a collision course with House Democrats that is likely to shape the next presidential campaign.
Trump's first move following midterm elections in which he stoked fears of undocumented immigrants was to restrict asylum claims by people who illegally cross the U.S.-Mexico border. He has also promised to try to end the constitutional guarantee of citizenship to anyone born in the country through executive action.
Both Trump and House Minority Leader Nancy Pelosi, the likely next speaker of the House, racked up political gains in the election that each credits to the intractable debate over immigration policy. It's unclear whether Pelosi is willing to make the compromises necessary to move forward -- and regardless, Trump appears ready to spend the next two years testing the limits of his executive authority and daring the federal courts to stop him.
All of that amounts to "a brutal couple of years" ahead on immigration, said Frank Sharry, executive director of the pro-immigrants' rights group America's Voice.
Trump's immigration policies and the lack of deportation protections for Dreamers -- immigrants who were brought into the U.S. as children and are now adults -- helped Democrats oust House Republicans in districts with heavy concentrations of Latino voters, including Representatives Mike Coffman of Colorado and Carlos Curbelo of Florida.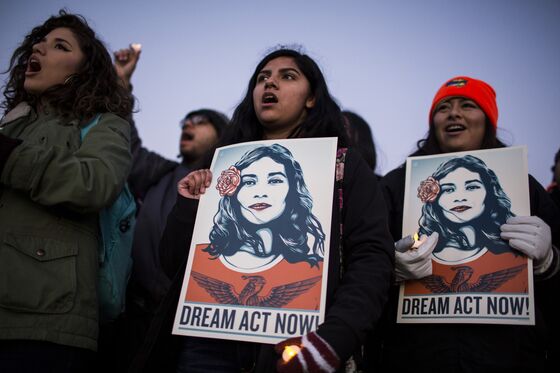 For Trump, the goals he wasn't able to achieve when his own party controlled both chambers -- including funding for his border wall and lower limits on legal immigration -- will be further out of reach with a Democratic majority in the House. Democrats, meanwhile, plan to move ahead with legislation to expand protections for immigrants, showing voters what could become law if they were to win the presidency and Senate in 2020.
There is some potential for limited action on immigration in the closing weeks of the year. Trump's demand for a border wall will be part of negotiations to complete this year's spending bills and avert a government shutdown. He needs some Democratic votes for the spending package to pass the Senate but it isn't yet clear how the party will use that leverage.
Trump had threatened a government shutdown over wall funding before the midterms and appeared at a post-election press conference last week to be considering his options. "I don't know, I can't commit to that," he said in response to a question about whether he was taking a shutdown off the table.
Once the new Democratic majority is sworn in, Pelosi is expected to prioritize extending legal status for Dreamers -- ideally by creating a pathway to citizenship. Democrats are also likely to push back on Trump's efforts to revoke temporary protected status from people who've come from countries struck by war or natural disaster, including Haiti, Yemen and Nicaragua.
But there's "nothing" that Pelosi would agree to that includes full funding of the border wall, she said last month.
In her own post-election press conference last week, Pelosi pointed to polling that shows Americans are more aligned with Democratic immigration policies than with Trump's.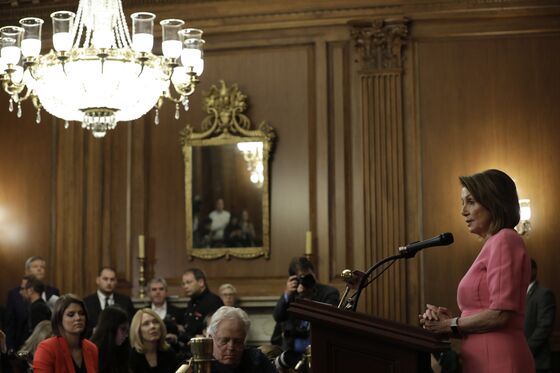 "I do believe that one of the reasons that we will be successful in our negotiations is because the people will see the impact of what is being proposed on their lives, on their values, on our country," she said.
Whether the two sides can compromise remains to be seen. Earlier this year, both the Senate and House failed to pass legislation that would shield the Dreamers and make other changes to immigration law. Debate in the Senate collapsed in February, when four competing immigration proposals were blocked after a deepening impasse over which conservative policies to trade off. Ultimately, Trump said he wouldn't support any of the compromises.
"There was a chance, there was a moment, when Trump could have had the wall for the Dream Act. That's over. That's passed. Not going to happen," Sharry said. Democrats are "very clear-eyed that we're dealing with the most racist president in modern American history whose claim to infamy is that he and his supporters hate immigrants."
At a press conference last week, Trump suggested that he's not interested in negotiating on Dreamers, after last year suspending the Deferred Action for Childhood Arrivals program launched by his predecessor, Barack Obama. His administration took the unusual step of bypassing federal courts to ask the Supreme Court to rule by next summer on cases Trump hopes will allow him to end deportation protections for Dreamers. Trump said he wants to wait out that ruling.
The American Civil Liberties Union, along with other groups, challenged Trump's new asylum policy on Friday, just hours after the president signed the proclamation. "Neither the president nor his cabinet secretaries can override the clear commands of the U.S. law, but that's exactly what they're trying to do," the ACLU's Omar Jadwat said in a statement.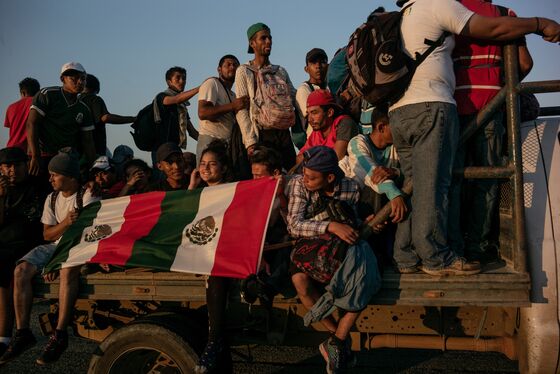 Trump has spent the past month fanning fears of a migrant caravan that's still hundreds of miles away in Mexico. Calling the caravan an immediate "crisis," he ordered 5,000 troops to the border last week and said that an additional 10,000 could be deployed.
Trump also last week promised to end birthright citizenship. "We are looking at it very seriously," Trump said, adding that he believes he has the "absolute right" to take action on citizenship. Ultimately, though, it will depend on the Supreme Court, he said.