Trump and Iran Give Common Foe a New Year's Gift
The confrontation between Washington and Tehran over the U.S. killing of Iranian general Qassem Soleimani has given one group in particular reason to cheer: Islamic State.
As Caroline Alexander and Glen Carey write, Soleimani was hailed as a hero by the fighters who helped flush Islamic State out of its last urban strongholds in Syria in 2017. At the time, the U.S. provided air power and Iranian-backed militias the combat troops to battle a common enemy, the self-styled Caliphate.
Last week's killing of the leader of Iran's foreign legion of proxies marked the second time since November that U.S. actions have buoyed Islamic State's hopes of a revival. President Donald Trump's earlier withdrawal of American forces from northern Syria allowed Turkey to target Kurdish groups that were vital to the campaign against the Islamist militants.
While Trump yesterday signaled a de-escalation of tensions after Iran's retaliatory strikes left no American casualties, repercussions endure. Iraq's parliament called for the withdrawal of U.S. soldiers that are part of a coalition providing training for the anti-Islamic State campaign. American forces are now focusing on protecting themselves rather than aiding the hunt for the militants.
The U.S.-Iran standoff is threatening to open a vacuum in the region that Islamic State has shown it can thrive in.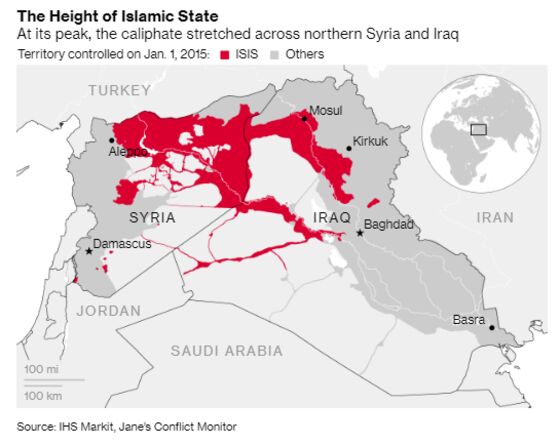 Crash probe | Iran has invoked an international agreement to get assistance from other countries — including the U.S. — in investigating a Boeing jetliner's fiery crash near Tehran, Alan Levin and Arsalan Shahla report. American agencies weighing whether it is legal to engage with Iranian authorities under the terms of U.S. sanctions are concerned about the safety of sending people there given the confrontation between the two countries.
Sealing the deal | China announced that Vice Premier Liu He will travel to Washington next week to sign the first phase of the trade deal with the U.S., locking in Beijing's commitment to a ceremony already announced by Trump. Liu has acted as Chinese President Xi Jinping's top negotiator throughout the tariff conflict. Trump has said he will go to Beijing after the agreement is inked to begin negotiations on the second phase.
Fighting words | Fugitive Carlos Ghosn and Japan's government fired barbs at each other at news conferences separated by a few hours and thousands of miles, Sophie Jackman and Isabel Reynolds report. The former Nissan Motor and Renault head said he fled the country's "hostage justice" and didn't think he could get a fair trial in Tokyo. Japanese Justice Minister Masako Mori accused Ghosn of spreading falsehoods and demanded he stand trial.
Ghosn says French President Emmanuel Macron set in motion the events that led to his downfall.
Under pressure | Senate Democrats are urging House Speaker Nancy Pelosi to end her standoff over Trump's impeachment trial, as it has become increasingly clear there's little chance of winning concessions from Republican leader Mitch McConnell. "I don't see what good delay does," said Democratic Senator Dianne Feinstein, Pelosi's fellow Californian.
Pushed aside | The government of South Korean President Moon Jae-in reassigned three top prosecutors probing corruption in his administration, prompting indignation from opposition groups who see it is an undemocratic move coming just months before national parliamentary elections.
U.K. Prime Minister Boris Johnson and EU Commission President Ursula von der Leyen differed yesterday on their visions of a post-Brexit trade deal, with von der Leyen saying it would be impossible to get a full agreement in time to meet Johnson's year-end deadline.
Two U.S. lawmakers seeking to press Beijing on human rights are trying to restart work on stalled legislation that would sanction Chinese officials for their treatment of Uighur Muslims in the western part of China.
Tell us how we're doing or what we're missing at balancepower@bloomberg.net.

And finally ... It was the first Southeast Asian nation to allow medical marijuana, and now Thailand is looking at decriminalizing cannabis, with the industry poised to expand to more than $660 million by 2024. The biggest cheerleader of the business opportunity may be a surprise: Thailand's deputy prime minister, Anutin Charnvirakul, whose pot-positive election campaign in last year's poll won the hearts of voters, Natnicha Chuwiruch reports.