Bannon Targeted for Contempt Charge in House Riot Probe
(Bloomberg) -- A House committee investigating the Jan. 6 insurrection at the U.S. Capitol is set to vote Tuesday to hold a top adviser to former President Donald Trump in contempt of Congress for not cooperating in the probe. 
Steve Bannon, who served as the former president's chief political strategist and helped run his 2016 campaign, has refused at Trump's request to cooperate with the committee's subpoena.
Mississippi Democratic Representative Bennie Thompson, the chairman of the committee, blasted Bannon for "hiding behind the former President's insufficient, blanket, and vague statements regarding privileges he has purported to invoke." 
The panel, which includes seven Democrats and two Republicans, will vote to hold Bannon in contempt on Tuesday night. Bannon was scheduled for a deposition Thursday but did not show. 
"The Select Committee will not tolerate defiance of our subpoenas, so we must move forward with proceedings to refer Mr. Bannon for criminal contempt," Thompson said. 
Robert Costello, Bannon's attorney, said in a Wednesday letter to the committee that Bannon would not testify or provide documents until the panel reaches an agreement with Trump or a court weighs in on executive privilege. Bannon, Costello noted, has previously testified three times before Congress when Trump did not invoke executive privilege.  
"Mr. Bannon's position is not in defiance of your Committee's subpoena," Costello wrote.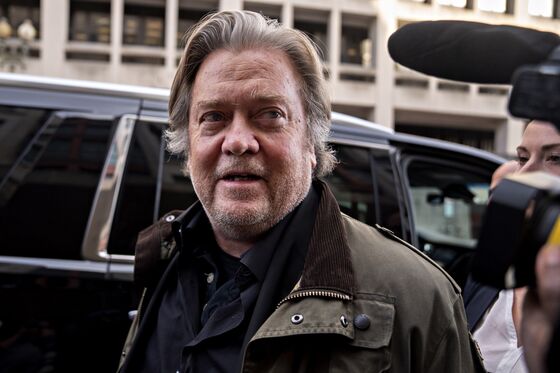 Also subpoenaed to provide a deposition Thursday is former Defense Department official Kashyap Patel. But unlike Bannon, Patel is engaging with the committee, according to panel officials, despite also being urged not to do so by Trump's legal team. His deposition is being delayed as those talks continue.
Former White House Chief of Staff Mark Meadows and former Deputy Chief of Staff for Communications Dan Scavino have also been subpoenaed to appear for depositions Friday. It remained unclear Thursday if they will do so. Trump doesn't want them cooperating either. But Meadows, a former House member, is also described as actively engaging with the committee.
According to the committee, a person who refuses to provide testimony or documents subpoenaed by Congress, including committees of the House, is potentially liable for contempt of Congress. That is a crime that may result in a fine and between one and 12 months' imprisonment.
But there remain questions about how the process would play out.
The decision to refer such a charge to the Justice Department would go before the full House, where it requires a simple majority in a chamber Democrats control by an eight-seat margin. 
If it passed the House, it is not certain how vigorously Attorney General Merrick Garland and the department would pursue its penalties against Bannon, which could be cast as a partisan effort. 
In determining whether and how to prosecute, Garland and the department would also have to decide whether Bannon's non-compliance at Trump's direction is valid executive privilege.
Alternatively, the House could seek evidence via civil action but that could take years in the courts to reach even a partial resolution. There also is the potential of asserting Congress's long-dormant "inherent contempt" powers.
Under that approach, the House could dispatch its sergeant-at-arms to make arrests and then conduct a trial before the full House. Someone judged to be in contempt could be fined or jailed until the testimony or documents sought have been provided.
But the likelihood of putting Bannon or another official in a Capitol "jail" is slim.
Congress used the tactic early in its history but lawmakers abandoned it by the mid-1930s. A recent federal district court decision notes: "Exercise of Congress's inherent contempt power through arrest and confinement of a senior executive official would provoke an unseemly constitutional confrontation that should be avoided."