Trump Adviser Skips Argentina Inauguration Over Maduro Aide
(Bloomberg) -- A top adviser to U.S. President Donald Trump flew to Buenos Aires but decided to skip Alberto Fernandez's inauguration after learning that a minister to Venezuelan leader Nicolas Maduro would be attending.
Mauricio Claver-Carone, a presidential adviser for hemispheric affairs, told Argentine newspaper Clarin he hadn't received advance warning that Maduro's representative, Jorge Rodriguez, would also be there. Local media showed photos of Rodriguez, who's sanctioned by the U.S. and a dozen Latin American nations, at Argentina's Congress Tuesday, where Fernandez's swearing-in took place.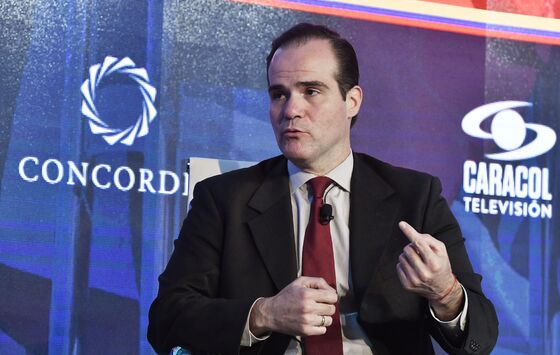 "Unfortunately, due to some invitations and surprises that we learned about upon arrival, I decided not to go and I'm leaving early," Claver-Carone told the newspaper. "I'm not going to have the many work meetings that we have scheduled for tomorrow."
A U.S. embassy spokesman confirmed Claver-Carone remarks when contacted by Bloomberg on Tuesday. He later said that Fernandez will receive Michael Kozak, the State Department's acting assistant secretary for Western Hemisphere Affairs, and U.S. Ambassador Edward Prado for lunch on Wednesday.
Claver-Carone told Clarin he had communicated his displeasure with the Venezuelan representative's presence to Fernandez's secretary for strategic affairs, Gustavo Beliz. U.S. However, Health and Human Services Secretary Alex Azar did attend the inauguration and greeted Fernandez.
Claver-Carone emphasized to Clarin that the Trump administration is committed to helping Fernandez's new government turn around the Argentine economy, which is in recession, battling 50% inflation and facing an unsustainable debt load. Fernandez's comments about potentially offering asylum to former Bolivian leader Evo Morales, as well as the presence of former Ecuadorian President Rafael Correa in the ceremony, also factored into the decision not to attend, he said.
"These distractions don't bring any benefits to Argentina," Claver-Carone said, according to Clarin. He added that Fernandez was perhaps "poorly advised" and that "you don't do this between friends."
Fernandez's spokesman didn't respond to a request for comment.
Claver-Carone appears to be the top contact between Trump and Fernandez after he met with the Argentine leader in Mexico in early November and co-led the delegation to Buenos Aires.
His absence potentially holds implications beyond optics and diplomacy. Argentina has a record $56 billion credit line with the International Monetary Fund, which is currently on hold until Fernandez spells out his economic policies. The U.S. government is the IMF's top financier, giving it heavy influence over the approval of any new deal between Fernandez's new government and the Fund.
Trump labels Maduro a dictator and the U.S. government has slapped a range of sanctions on the Venezuelan government in an effort to push him out. Trump recognizes Juan Guaido, a Maduro opponent, as Venezuela's president, and up until now Trump counted on Fernandez's predecessor, Mauricio Macri, as a Latin America ally against Maduro.
Fernandez hasn't completely reversed Macri's stance on Venezuela, but he hasn't labeled Maduro a dictator either and his stance is muddled thus far. Fernandez's vice president, former president Cristina Fernandez de Kirchner, was a close ally of Maduro during her time in office. His foreign minister, Felipe Sola, said Argentina will remain in the so-called Lima Group, composed of several Western Hemisphere nations that condemn Maduro as a dictator.
Fernandez's inauguration was a difficult call for Brazilian President Jair Bolsonaro, too. After scrapping plans to send a high-ranking official to the inauguration, Bolsonaro decided at the last minute to send his vice president. Fernandez is a friend and advocate for Bolsonaro's political foe, former President Luiz Inacio Lula da Silva.
Claver-Carone did hold at least one meeting in Buenos Aires: He met Elisa Trotta Gamus, Guaido's appointed ambassador to Argentina, Tuesday morning.