Trump Administration Defends Whitaker Appointment as Lawful
(Bloomberg) -- President Donald Trump's elevation of Matthew Whitaker to acting U.S. Attorney General was completely lawful and Maryland's request to void the selection should be rejected, Justice Department lawyers told a federal judge.
The state is asking the court "to take the extraordinary step of unseating the presidentially designated Acting Attorney General," lawyers for the U.S. said on Monday. Their court filing came in response to a bid by Maryland's attorney general, Democrat Brian Frosh, to effectively disqualify Whitaker because the president failed to follow the right law in filling the vacancy created by Jeff Sessions's forced resignation last month.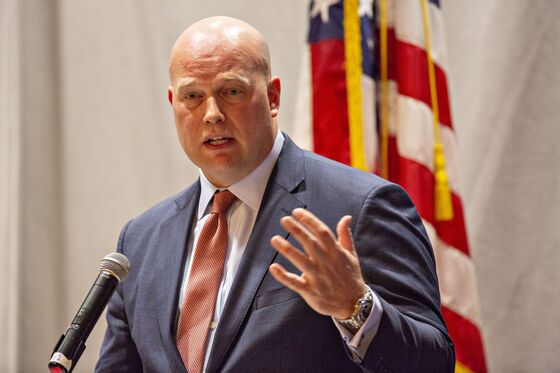 Trump administration lawyers have already asked Baltimore federal judge Ellen Hollander to throw out the state's lawsuit on technical grounds related to the court's jurisdiction. Should they prevail, she will be unable to rule on the legality of Whitaker's appointment.
The judge has scheduled a Dec. 19 hearing on the state's bid to bounce Whitaker and the U.S. dismissal request.
The battle arose within the confines of a lawsuit filed by Frosh in September, seeking a court order declaring key portions of the Affordable Care Act are both constitutional and enforceable. The case was a hedge against a contrary finding by a Texas federal judge in a still pending case.
Once an Iowa federal prosecutor, Whitaker was serving as Sessions's chief of staff when his now-former boss was ousted on Nov. 7. Trump immediately appointed Whitaker as the nation's top law officer, bypassing Deputy Attorney General Rod Rosenstein and -- according to Frosh -- violating the federal Attorney General Succession Act, which requires an acting AG to be somebody in the Justice Department who already holds a U.S. Senate-confirmed position.
Whitaker's selection is also the subject of a Washington federal court case brought by three Senate Democrats seeking an order quashing his appointment and has been challenged in a case that was already before the U.S. Supreme Court on other grounds.
In papers filed with the high court last month, administration attorneys argued the president has the discretion to temporarily fill the AG's post via the 1998 Federal Vacancies Reform Act instead. Whitaker can remain in the post for 210 days or longer if a replacement is in the midst of Senate confirmation.
In a separate filing late Monday, Maryland's lawyers opposed the administration's request to dismiss the underlying Obamacare preservation lawsuit, disputing a U.S. assertion that the state hadn't alleged the impending harm necessary to invoke the court's jurisdiction.
The administration can't "dispute that the state would be financially injured if defendants stopped enforcing the ACA entirely," they said, adding that even simply abandoning provisions regarding pre-existing conditions "would impose serious financial harm on the state."
The case is State of Maryland v. United States of America, 18-cv-2849, U.S. District Court, District of Maryland (Baltimore).