Trump Administration Claims $1.6 Billion in Regulation Savings
(Bloomberg) -- President Donald Trump's administration claimed it cut regulations during the past year costing the U.S. $1.6 billion annually as the White House works to remake government.
Trump promoted the rollback in an Oval Office ceremony on Wednesday, declaring his team had "knocked out tremendous numbers of unnecessary regulations."
The government exceeded Trump's mandate that agencies eliminate two regulations for each significant new rule they impose, reaching a ratio of four to one, according to a senior administration official. The official wasn't authorized to be quoted and asked not to be named.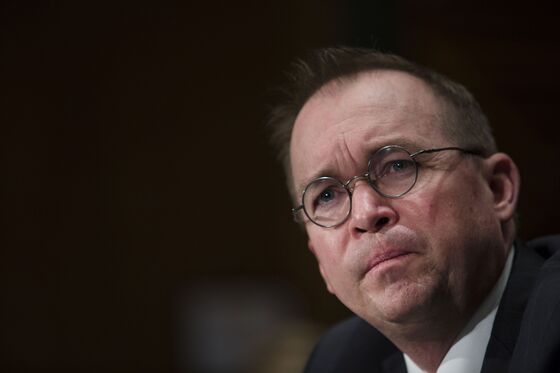 "This President was determined to correct the wrongs of the past so that Americans could once again be free to grow their businesses, provide for their families and make their own decisions," Office of Management and Budget Director Mick Mulvaney said in a statement. "Today's report proves that President Trump is delivering on that promise."
Lisa Gilbert, vice president for legislative affairs at the advocacy group Public Citizen, said the administration has surrendered protections for workers and consumers.
"Under the Trump administration, regulators are focused only on boosting corporate profits, not saving lives or protecting the public by holding corporate wrongdoers accountable," Gilbert said in a press release.
A Public Citizen analysis of the regulations adopted in the past year found there were "zero significant health and safety protections."
While there is little doubt that Trump's agenda of undoing environmental standards and reducing government oversight on business has had successes, the White House released only limited underlying data to verify its claims. Some prior assertions about regulatory successes have proven exaggerated.
White House said the savings from eliminating regulations would reach a cumulative value of $23 billion over a "perpetual time horizon." Using the White House's own guidance, the annual cost savings would be $1.64 billion.
The government "eliminated" 176 regulations in the 2018 fiscal year that ended Sept. 30, according to the senior official who briefed reporters.
Among regulations designated "significant," which generally means they are estimated to cost at least $100 million, there were 57 eliminated in the past year compared to 14 new regulations enacted, or a four-to-one ratio, according to the White House.
Shortly after taking office, Trump issued a series of executive orders designed to curb regulations. Agencies were required to eliminate at least two regulations for each new one.
A Bloomberg review of Trump administration claims last year found that it had taken credit for killing or delaying rules that were pending and hadn't taken effect. In some cases the proposed measures had already been dropped by the previous administration of President Barack Obama.