Barr Floats Gun Background Checks Plan; Says Trump Is Undecided
(Bloomberg) -- Attorney General William Barr is circulating a proposal for expanded background checks for gun buyers, but White House officials say President Donald Trump still hasn't made a decision on what steps he'd back.
"I am up here just kicking around some ideas and getting perspectives so I can be in a better position to advise the president," Barr told reporters Wednesday at the Capitol. Asked when Trump might decide, he said, "I couldn't tell you."
Senator Pat Toomey, a Pennsylvania Republican, said expanding the federal criminal background check system is the heart of the attorney general's proposal. Toomey has co-sponsored such a measure, which previously was stalled by opposition from fellow Republicans.
"I'm honestly encouraged," Toomey said after meeting Wednesday afternoon with Barr and Democratic Senators Chris Murphy and Joe Manchin. "It's a very constructive dialogue we're having."
"I personally think the president wants to do this," said Manchin of West Virginia. "It's up to the president now to see what he's comfortable with and what he's prepared to move forward with."
Murphy said the proposal combines some of the senators' initiatives on background checks with new ideas. The Connecticut senator declined to say whether he's seeking changes in the plan.
The proposal being circulated includes requiring background checks for all commercial guns sales, including at gun shows, according to a copy of the document obtained by Bloomberg. They would be conducted through an existing system of federal firearms licensees or through a newly created group of licensed transfer agents. Those agents wouldn't have their own gun inventory but would be authorized by the federal government to initiate background checks though the National Instant Criminal Background Check System, or NICS.
The idea was dismissed by the National Rifle Association's lobbying arm as a "non-starter" in a tweet that said it would burden gun owners without addressing mental health issues and "the prosecution of violent criminals."
Negotiations on potential new firearms restrictions spurred by mass shootings last month in Texas and Ohio have been stymied while Republicans look to the White House for any idea of what the president would sign. Despite the discussions taking place, they are no closer to that goal.
Eric Ueland, the White House's top lobbyist, said Trump isn't endorsing any particular approach and that he and Barr are making an effort to reach out to lawmakers for their ideas.
The document was reported earlier by the Daily Caller.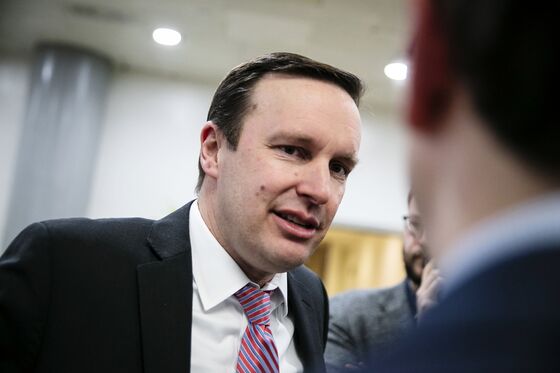 Murphy of Connecticut had said before the meeting with Barr, "Talks are ramping up, not ramping down."
The 2013 legislation sponsored by Toomey and Manchin would extend federal criminal background checks to purchases made on the Internet and at gun shows.
Trump, who's been briefed by aides on some of the options being discussed, has publicly stated support for expanded background checks. But he also has shifted his position, most recently expressing doubt about whether they would be effective in curbing gun violence.
He has previously threatened to veto a House bill that would extend background checks to sales between individuals.
Senate Majority Leader Mitch McConnell reiterated Tuesday that he won't advance any legislation without knowing whether the president would sign it. Other ideas under discussion include legislation encouraging states to adopt "red flag" laws that allow courts to issue protective orders taking firearms from people who have been determined to pose a danger to themselves or others.
There is broad opposition to expanded background checks among House Republicans, and Senate Republicans are deeply divided on the matter.
Senator Kevin Cramer, a North Dakota Republican, said he hasn't been briefed on the proposal yet, but would prefer something more modest than expanding background checks to all advertised sales.
"This will be a test of tests for his base's loyalty in my view," Cramer said, if Trump embraces the idea of expanding background checks.
"I can just tell you back home in North Dakota, when you start talking about more background checks, they just bristle," he said.
But Senator Michael Braun, an Indiana Republican who is a member of the National Rifle Association that opposes such efforts, said those who back gun rights would be wise to allow some expansion of background checks. Without any pragmatic changes, he said, there is a risk of a much tighter clampdown on gun owners in the future.
"In my opinion, the Second Amendment, which is right up there with basic rights, gets hurt when conservatives just dig in and do nothing," Braun said Tuesday in an interview with Bloomberg editors and reporters. He added that "we just can't say no categorically."
Another Republican senator, Susan Collins of Maine, backed the Toomey-Manchin background checks legislation in 2013 and said she's eager to see it clear the chamber.
"I supported the original version, which had exemptions for family members, and I think we can come up with something that will pass the Senate," said Collins, who is up for re-election in 2020.
Senator John Cornyn of Texas, a member of Republican leadership, said he favors requiring people who sell firearms as a business to be licensed dealers.
"If you are in the business of selling firearms, then you need to be a licensed firearms dealer and by definition anybody you sell them to would get a background check," Cornyn said. "So that would reduce the number of firearms being sold without a background check."