Trudeau Promises to Ramp Up Spending in Tight Election Fight
(Bloomberg) -- Prime Minister Justin Trudeau, facing an unexpectedly tight race for re-election, unveiled a campaign platform promising tens of billions of dollars in spending on new initiatives that he says would be financed by a tax-revenue windfall from an expanding Canadian economy. 
The document, published Wednesday, includes about 100 measures costing roughly C$78 billion ($62 billion) over a five-year period -- including some projects that have already been announced and for which money is being spent this year. 
New tax-revenue measures, including a 3% tax on bank profits and 15% minimum rate on high earners, would bring in around C$25.5 billion over five years. 
Even with the new spending, Trudeau's party says government debt will decline, citing Parliamentary Budget Office tax-revenue figures from August that are much stronger than what was projected by Finance Minister Chrystia Freeland in April.
Trudeau's main rival in the Sept. 20 election is Erin O'Toole, the Conservative Party leader. His platform, released on Aug. 16, the day after the election was called, emphasized job creation and lowering housing and food prices.
Polls show the Liberals in a tough fight to stay in power, in a statistical tie with O'Toole's Tories.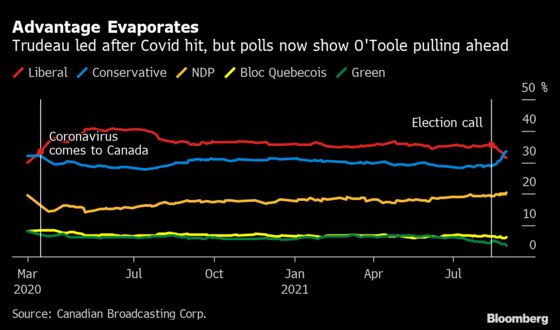 The Liberals say they expect budget deficits of C$336 billion over five years, similar to the C$331.9 billion shortfall projected in the April budget. That's well above the baseline projected by the Parliamentary Budget Office of C$266 billion. 
The budget watchdog believes Canada's economy will be more than C$100 billion larger per year than what had been forecast in Freeland's fiscal plan, with tax revenue coming in about C$15 billion higher annually.
That would offset the cost of the Liberal platform. The platform includes a three-year C$15 billion rainy day fund -- a so-called "risk adjustment buffer" -- on top of the new spending in case the economic outlook deteriorates.
The government's revenue windfalls will be boosted by a suite of tax measures targeting large companies and the highest earners. The 15% minimum tax would affect those earning more than C$214,368.
The 3% surtax on profits for the country's largest banks and insurers will bring in around C$5 billion over five, according to the platform. 
The Liberals provided more details about their housing strategy, which would include 1.4 million new and refurbished homes. If re-elected, Trudeau says he would ban foreign investors from buying residential property for two years and introduce an "anti-flipping" tax, which would require houses by owned for 12 months before they can be resold. 
The plan also includes more details about Trudeau's plan to fight climate change. Not only would oil companies need to adhere to benchmarks to reduce emissions, but the government would also move up its deadline to phase out fossil fuel subsidies to 2023 from 2025.