Trudeau Readies New Cabinet Amid Concerns About Uneven Recovery
(Bloomberg) -- Justin Trudeau's top deputy said a fourth wave of Covid-19 is complicating Canada's economic recovery as the prime minister prepares to unveil a new front bench after winning re-election.
Finance Minister Chrystia Freeland told reporters Thursday that shutting down the economy to curb the spread of the virus early last year was "a simpler process" than steering the country out of the crisis.
"Turning an economy back on -- in Canada and also around the world -- is inevitably uneven and that natural unevenness is compounded by the fourth wave of the coronavirus," Freeland said in Washington, where she held talks with her Group of Seven and Group of 20 counterparts.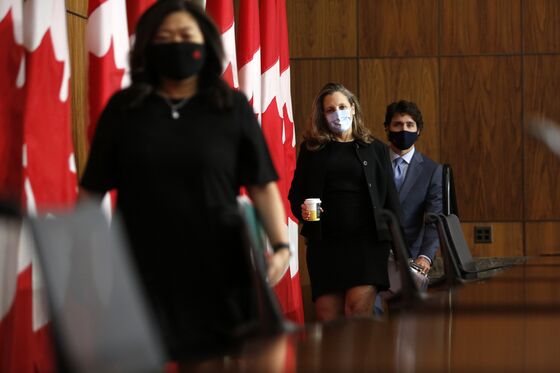 Supply chain bottlenecks are starting to weigh on optimism globally, with economists fearing the disruptions could be more persistent than expected. On Wednesday, U.S. President Joe Biden convened a meeting with shipping companies and retail giants at the White House to discuss ways to stave off a holiday season of shortages and delays. 
Freeland said her government is "mindful of the supply chain issues in the Canadian economy" and is monitoring activity at key ports closely. She nonetheless expressed confidence in the nation's economy, particularly after a report last week showed the labor market has now recovered all of the roughly 3 million jobs lost to the pandemic.
"I am optimistic about the strength of Canada's economic recovery," the finance minister said.
Her remarks come as the prime minister puts the finishing touches on a new cabinet after his re-election to a third term last month. Trudeau, who announced on Sept. 28 he would keep Freeland in her post as finance chief and second in command, will unveil a full ministerial slate on Oct. 25, according to the Canadian Broadcasting Corp.  
Three incumbent Liberal ministers, all of them women, were defeated in the election, and Trudeau has promised he will again strive for gender parity at the cabinet table. Both the CBC and the Toronto Star speculated that Defense Minister Harjit Sajjan's job is on the line as Canada's military grapples with a wave of sexual harassment allegations within its top ranks.
Freeland declined to comment on the looming cabinet announcement. "The prime minster is hard at work on the transition," Freeland said. "It will be a pleasure for him to reveal all that in due course," she said.