Trudeau Keeps Spending Taps Open to Support Canada Recovery
(Bloomberg) -- Justin Trudeau's Canadian government, which has delivered the biggest Covid-19 fiscal response in the industrialized world, announced plans for another dose of stimulus and vowed to continue priming the economy as long as needed.
Finance Minister Chrystia Freeland unveiled C$51.7 billion ($39.8 billion) of new spending over two years in a mini-budget Monday, led by an enhanced wage subsidy for business. Freeland also pledged, without detailing, another C$70 billion to C$100 billion of additional stimulus over three years to spur the recovery.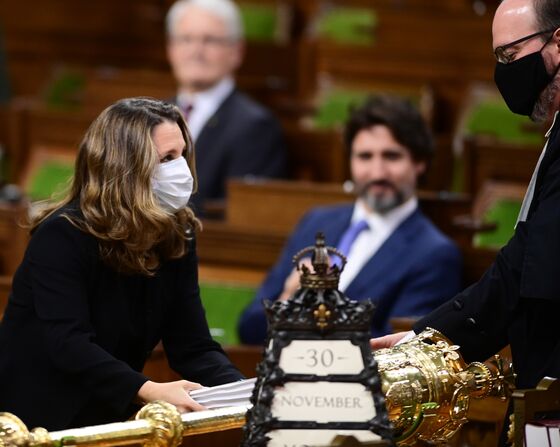 That spending isn't in the fiscal framework, with Freeland promising to deliver it as needed going forward. Her plan signals the Canadian government isn't straying from its "whatever it takes" mantra on spending.
But the finance minister clearly heeded calls for fiscal prudence. She put off any major structural spending announcements, promised any additional stimulus will be temporary and introduced new taxes on digital giants to help pay for it all.
"Our government will make carefully judged, targeted and meaningful investments to create jobs and boost growth," Freeland said in the Ottawa legislature. It will provide "the fiscal support the Canadian economy needs to operate at its full capacity and to stop Covid-19 from doing long-term damage to our economic potential."
Freeland revised higher the nation's projected deficit this year to C$381.6 billion, or 17.5% of gross domestic product. That's up from a deficit of 1.7% of GDP last year. No major economy will show a bigger fiscal swing in 2020, according to estimates from the International Monetary Fund.
The gap is projected at C$121 billion next year, before any additional stimulus. In total, spending linked to the government's Covid response accounted for C$275 billion of this year's deficit, and C$51 billion next year.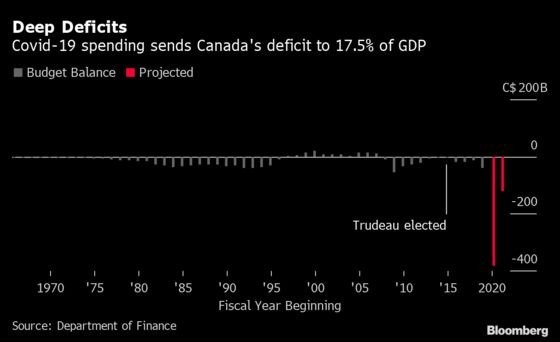 Based on Monday's projections, the deficit is seen gradually narrowing to about C$51 billion in two years and C$25 billion by 2025.
The Canadian dollar weakened slightly following the government's release of the budget update, and was trading at C$1.30 per U.S. dollar at 4:45 p.m. Bond yields were little changed.
The planned stimulus over the next three years will total no more than 4% of GDP, which the document said is in line with the Bank of Canada's estimate of the level of slack in the economy. Freeland said "fiscal guardrails" tied to the labor market would help determine the extent of the additional stimulus.
Among measures announced today, Freeland boosted the government's marquee wage subsidy program to cover as much as 75% of payroll costs for businesses and extended its commercial rent subsidy and lockdown support top-ups through until March.
Establishing a national childcare plan is a key long-term goal, with Freeland vowing a detailed plan in next year's budget. In her forward to the fiscal update, she described the daycare strategy as "a feminist plan" that also "makes sound business sense."
There is also money for action on climate change. The government allocated C$2.6 billion in grants for homeowners to improve efficiency and $150 million over three years for electric vehicle charging stations.
The government also detailed some help for the hard-hit tourism sector, including funding for airports. But with Transport Minister Marc Garneau's negotiations with airlines underway, there is no specific money for carriers including Air Canada and WestJet Airlines Ltd.