Trudeau Government Winds Down Broad Covid-19 Income Supports
(Bloomberg) -- Finance Minister Chrystia Freeland announced the Canadian government will allow its key income support programs for individuals and businesses to expire this week as planned, while introducing new targeted aid for the hardest hit industries.
At a press conference alongside Prime Minister Justin Trudeau in Ottawa, Freeland said the government will wind down its marquee Canada Recovery Benefit, its wage subsidy and other programs as of Oct. 23. A subsidy to business supporting the hiring of new workers will remain until May 7, and new programs will be launched for tourism businesses and other sectors, as well as individuals, that could be affected by lockdowns.
Freeland said the new and extended funding through early May will cost C$7.4 billion ($6 billion), versus C$289 billion spent so far on all income support programs.
"We are in a new phase of the recovery -- one that is very different from the darkest days in our fight against Covid-19," the finance minister said Thursday. "Our support needs to be more narrow, more targeted, and less expensive."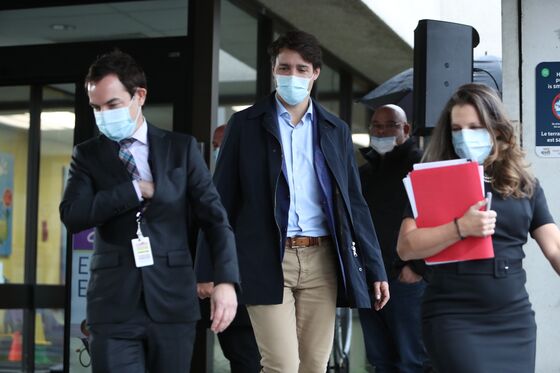 Details of the new financial supports are as follows:
Tourism and Hospitality Recovery Program will provide wage and rent subsidies of up to 75% to hotels, tour operators, travel agencies and restaurants
Hardest-Hit Business Recovery Program will provide subsidies of up to 50% for other businesses that have faced deep losses
Subsidy rates for both programs will be cut in half from March 13, 2022 through to their expiration in May
Canada Worker Lockdown Benefit will provide C$300 a week to those unable to work due to local lockdowns
Existing caregiver and sickness benefits for workers will be extended through May, with two additional weeks added to duration of both plans.
Thursday's announcement comes as Trudeau finalizes his new cabinet lineup after being held to another parliamentary minority in an election last month. He said a week after the vote that Freeland would stay in her post as finance minister and deputy prime minister. He is scheduled to announce his full front bench on Tuesday.
Reaction from the business community, which for weeks had been pressing the government for certainty on the fate of the aid programs, was largely positive.
The retooled aid will allow hard-hit firms "to survive until they can recover," according to the Canadian Chamber of Commerce. "This is the fair thing to do for businesses that are playing their part to protect public health," Mark Agnew, vice president of policy and government relations at the lobby group, said in an emailed statement.