Trudeau Defense Chief Names Top Judge to Military 'Me Too' Probe
(Bloomberg) -- Prime Minister Justin Trudeau's government named a respected former Supreme Court of Canada justice to lead a review of sexual misconduct in the nation's military.
Louise Arbour, who was chief prosecutor at the international war crimes tribunals for Rwanda and Yugoslavia before her five-year term on Canada's top bench, will examine harassment in the defense department and the Canadian Armed Forces, and make recommendations on how to fix systemic issues within the ranks.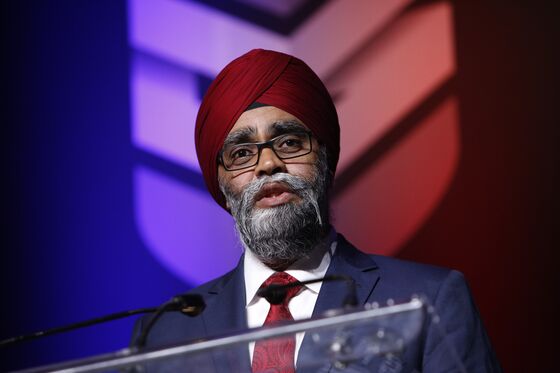 Her appointment, announced Thursday, comes as Trudeau faces scrutiny over his office's handling of a 2018 complaint against retired General Jonathan Vance, then the nation's top military commander. Vance's replacement, Art McDonald, stepped aside two months into his appointment earlier this year after a misconduct allegation prompted an investigation into his own conduct.
"It is clear we have not lived up to our responsibility to protect members from harassment," Defense Minister Harjit Sajjan said in a statement. He added that the government is committed to seeing the military "shed the toxic and outdated values, practices, and policies that have harmed our people."
A parliamentary committee looking into the Vance matter was told last week that Katie Telford, Trudeau's chief of staff, was aware of a misconduct allegation against the top soldier three years ago. The prime minister's handling of the matter could become an issue in an election campaign expected this year, in which the governing Liberals hope to regain their parliamentary majority.
The main opposition Conservatives, who appointed Vance to the nation's highest military post under former Prime Minister Stephen Harper, accused Trudeau of circling the horses to protect his inner circle.
"The Liberals chose to make this announcement to protect Katie Telford -- not the women in the Canadian Armed Forces," James Bezan, a Manitoba lawmaker responsible for the defense file for the Conservatives, said in an emailed statement.
Earlier this week, Trudeau conceded that his office knew of the issue, but not the specifics.
"Nobody knew that it was a Me Too complaint. We did not have information on what was the nature of that complaint," the prime minister told reporters Tuesday, vowing to break "the strength of the culture that has allowed this for far too long within the military and other systems."