Tria Says Italian Government Would Intervene in a Banking Crisis
(Bloomberg) -- The Italian government would step in to help in the event of a crisis in the banking sector, Finance Minister Giovanni Tria said Saturday, echoing comments made by one of the country's two coalition leaders earlier in the week.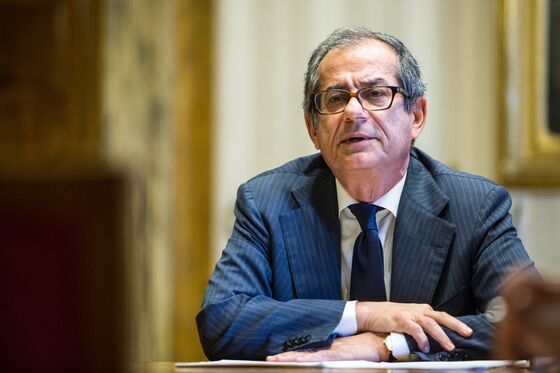 In the event of a crisis, the government "must in one way or another intervene; saying how isn't possible, if a minister did so it could upset the market," Tria was cited as saying by Ansa news agency. "There's nothing strange" about a government stepping in in such a case," he said. "Any government would have to do it."
While the anti-establishment Five Star Movement, one of the coalition's two partners, campaigned in the March election on a platform critical of the previous government's help for troubled lenders, the leader of the other party in the government, Matteo Salvini of the rightist League, said on Thursday that "if companies or banks need us, we're here," according to Reuters.
Italian banks remain solid and are mostly capable of passing stress tests on capital levels, Tria said Saturday, according to Ansa. For now "there are no dangers" for the banks, he said, noting that the main risk factor remains elevated bond spread levels, which the minister attributed to "political uncertainties," rather than concerns about Italy's budget proposals.
Five Star's opposition to using a fund from the previous government to aid weak lenders could prompt the government to push for a merger of at least one bank, Monte dei Paschi di Siena, with Bancoposta, daily Il Messaggero reported Saturday, without citing anyone.