Treasury Set to Detail 20-Year Bond Role in $1 Trillion Funding
(Bloomberg) -- Treasury Secretary Steven Mnuchin's debt managers are poised to detail how they will integrate the revived 20-year note into their arsenal for funding U.S. deficits forecast to top $1 trillion each year over the next decade.
The government's refunding announcement Wednesday is expected to show that quarterly long-term debt sales will remain at a record high from February to April. The suspense this week lies in how soon the Treasury will begin selling 20-year notes, and whether it will re-allocate any sales from other coupon-bearing debt to make room for the new maturity.
Dealers expect 20-year bond sales -- which were put on ice in 1986 -- to start in May rather than this month. But the Treasury may provide details this week on the issuance's structure for the first time since it unveiled the plan in mid-January. The new maturity comes as the government is trying to lock in low rates and find more options to fund itself.
The deficit has grown under President Donald Trump, mostly because of his tax cuts and higher outlays, even as he had promised to eliminate it. It could swell even further as well if Democrats win the Oval Office in November, as leading candidates are pitching voters with spending plans that would add billions more.
"Treasury is looking down the barrel of increasing deficits for a very long period of time," said Gennadiy Goldberg, senior U.S. rates strategist at TD Securities. "And as we get closer to the presidential election, there isn't anyone preaching any sort of fiscally conservative views. So Treasury needs spare capacity to borrow more going forward and is trying to figure out where they can catch additional pockets of demand."
In the fiscal year that ended in September, the government posted a $984 billion shortfall -- its most since 2012 -- and the Congressional Budget Office's latest projections have the gap breaching the $1 trillion mark in 2020 and remaining there at least through 2030.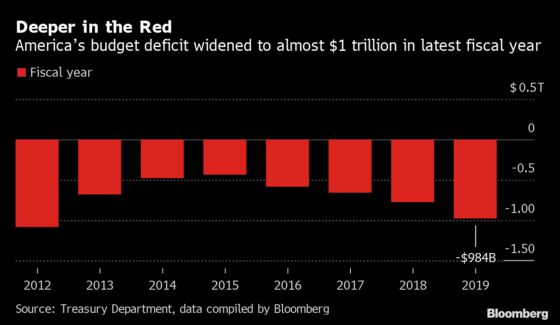 Dealer forecasts are coalescing around the Treasury keeping auction sizes of three-, 10- and 30-year debt unchanged at a total of $84 billion in sales scheduled Feb. 11-13. Among those surveyed, all expect 20-year debt to be sold starting in May.
The Treasury is also likely to make clear it's continuing to work toward adding floating-rate debt linked to the Secured Overnight Financing Rate in coming quarters. SOFR is the Fed's preferred candidate to supplant Libor as a benchmark for dollar rates. Most firms expect Treasury officials to also share their views on whether bill supply is becoming scarce amid the Fed's purchases aimed at addressing funding issues in the money markets.
Where Wall Street dealers' views are mixed is whether the Treasury will reduce auction sizes of other tenors in May to accommodate the new maturity.
Most agree that the department will hold off on reducing other coupon offerings, even though it's well funded at the moment, as the fiscal shortfall will start creeping up again in the fiscal year that begins in October. That's when the Treasury will also start facing a wall of maturing debt, forcing officials to lift overall sales to avoid a drop in net issuance.
"Seeing the contour of how financing needs will evolve over the next few years, if Treasury cut sales of some other maturities they'd just have to eventually raise them again," said Stephen Stanley, chief economist at Amherst Pierpont Securities LLC. "Given Treasury's aim to be regular and predictable, they don't really like to quickly reverse themselves. And there's a pretty big funding gap that opens up in fiscal 2021 and 2022."
Strategists at JPMorgan Chase & Co., Societe Generale, Credit Suisse and BMO Capital Markets are among those predicting cuts to other maturities to make room for the 20-year sale. That's in part because the Treasury might want to avoid cutting bills, which some say are already becoming scarce due to the Fed's purchases, or having its cash buffer rise too much -- both likely outcomes if there are no cuts in coupon offerings.
Mnuchin told Bloomberg News last month the Treasury is weighing letting the cash balance increase for "risk-management purposes." TD's Goldberg expects that to be the case -- and that's partly why he doesn't foresee any coupon-cuts ahead. Treasury's cash balance reached $450.5 billion on Jan. 29, the most since 2008, and was at $445.9 billion as of Jan. 30.
Use of debt financing is increasingly in vogue by those touting modern monetary theory. An adviser to Bernie Sanders' presidential campaign says that the U.S. government could easily pump half a trillion dollars of extra deficit spending into the economy each year without risking a jump in inflation.
"The accumulation of this debt has to be serviced and that's why Treasury is scrambling to take advantage, where they can, of achieving savings on the interest payments," said Bill Hoagland, a former Senate Budget Republican staff director who's now a senior vice president at the Bipartisan Policy Center.
The annual interest expense on Treasury debt has risen in each of the last four fiscal years, topping $574 billion in the most recent. CBO predicts net interest cost on all of the government's debt will more than double over the decade. Interest costs are increasing due to the growing debt pile, even as the average yield it pays has fallen.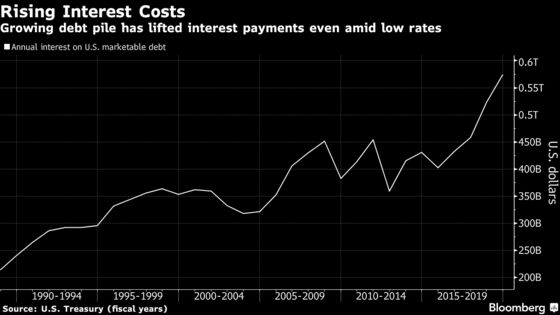 That's why some investors still expect the government to revisit the idea to issue ultralong debt beyond 30-years, even though Mnuchin told Bloomberg News that this plan is on hold for now.
"I wouldn't be surprised if they started dropping hints again about issuing longer term debt," said Nick Maroutsos, global bonds co-head at Janus Henderson Group Plc. "Locking in rates at low levels makes sense."