Travelers Put Indonesia at Risk of Second Wave of Virus Cases, Jokowi Says
(Bloomberg) -- Follow Bloomberg on LINE messenger for all the business news and analysis you need.
Indonesia faces the risk of a second wave of coronavirus infections with the return of thousands of migrant workers and cruise ship employees in the coming weeks, according to President Joko Widodo.
Jokowi, as the president is known, ordered officials to step up surveillance of workers returning from foreign countries, those coming back from religious gatherings and areas where industries are still operational. People who returned to their hometowns and villages from large cities before an official ban last month also pose a threat of spreading the virus, he said.
While 89,000 migrant workers had already returned to the country since the outbreak of the pandemic, another 16,000 people may return in the coming days, Jokowi said. "This must be handled really well on the ground so that a second wave does not emerge," he told a cabinet meeting.
Both Singapore and Thailand have been caught out by infections among foreign workers, who come from other parts of the region to work on building sites, in low-wage industries and as domestic labor. The countries are now scaling up testing of these communities, with the cramped dormitory-style or temporary accommodation they're often housed in leaving them vulnerable to infection from the highly contagious coronavirus.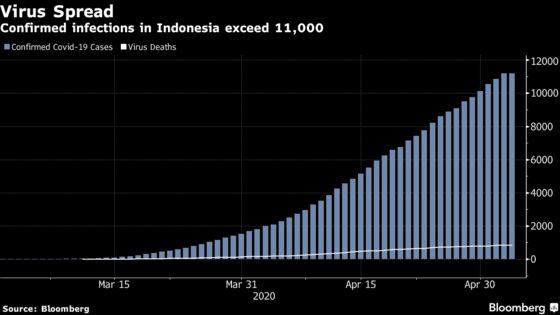 Indonesia's confirmed cases have surpassed 11,500 with 864 people succumbing to the infection after the world's fourth-most populous country reported its first cases only in early March. While authorities have imposed stricter social distancing measures in various regions, they expect the disease will infect about 95,000 people before it eases.
The country had missed its target to scale up daily testing to 10,000 because of a lack of qualified manpower, said Doni Monardo, chief of the government task force for Covid-19. Indonesia, a country of almost 270 million people, has tested only 83,000 people so far, despite health experts repeatedly calling for a ramp-up in detection to prevent the spread of the virus in the archipelago.
Jokowi also ordered a review of the stricter social distancing rules imposed in four provinces and 22 cities, which the task force chief said was helping curb the virus spread. New cases from cities including Jakarta were showing a declining trend, Monardo said, adding only the discovery of a vaccine will allow people to return to a complete normal life.
"Be aware of the second wave of infections," Monardo said. "Some of the provinces have zero cases. Don't let the desire to go home create new problems," he said referring to the annual ritual of traveling back to villages to celebrate Muslim festival of Eid al-Fitr.
The pandemic has weakened the outlook for Southeast Asia's largest economy, with growth this year forecast to more than halve to 2.3%. Jokowi's government has in recent weeks announced a string of emergency measures, worth about $28 billion, aimed at supporting a health system and the economy.