Trauma Wards Fill Up in South Africa After Alcohol Ban Is Lifted
Trauma admissions in South African hospitals have surged since a nine-week ban on alcohol sales was lifted on June 1, filling beds needed to accommodate a rapid rise in coronavirus patients.

The ban was imposed as part of a lockdown the government instituted on March 27 that aimed at readying the health system for the virus and curbing its spread. While that dealt a heavy blow to some 25,000 liquor stores and 65,000 bars and restaurants that sell alcohol, South Africa's so-called excess death rate plunged, making it one of a handful of countries globally to register fewer rather than more deaths during the pandemic.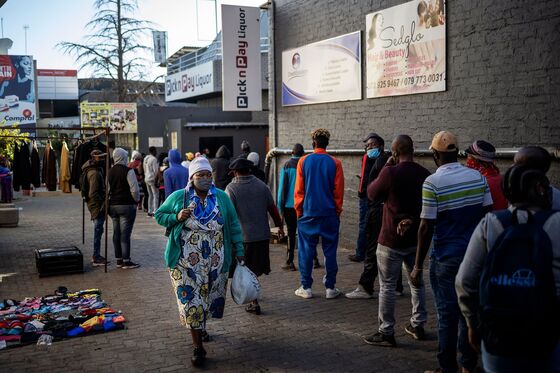 The weekly number of deaths from unnatural causes –- mainly homicides and road accidents –- fell to 400 by the end of April, the lowest on record, from 1,200 in January, data compiled by the South African Medical Research Council show.
Binge drinking is widespread in South Africa, which features consistently on the World Health Organization's list of the 20 nations with the highest per-capita alcohol consumption. Even though only one-third of the adult population drinks beer or wine, 59% of those are classified as problematic drinkers, especially on weekends.
Beverage makers have put "Don't drink and walk on the road" warnings on packaging because it is commonplace for drunk pedestrians to be hit by cars. An average of 40 people die in road accidents daily in normal times.

The lifting of the alcohol ban has ushered in a fresh wave of stabbings, road accidents and gunshot injuries, according to reports from hospitals nationwide. Even though sales are still restricted to four days a week, from Monday to Thursday, trauma wards have received as many as 5,000 alcohol-related admissions in the past week alone, said Charles Parry, director of the medical council's Alcohol, Tobacco & Other Drug Research Unit.

"Turning on the taps has exposed how bad the problem really is," Parry said. "We're seeing close to a trebling or quadrupling of trauma cases –- obviously this came from a very low base -- but I expect that we'll be back in the expected range of non-natural deaths this week."

Some are now calling for a reinstatement of the alcohol ban. Officials in the province of KwaZulu-Natal have expressed alarm over a spike in deadly road accidents. The premier of the Eastern Cape, Oscar Mabuyane, said Tuesday that he plans to lobby the government to re-impose the ban in his province, which recorded 94 murders in the week to June 7.

"It's really not about people enjoying themselves," Mabuyane said in an interview broadcast by Cape Town-based website News24. "It has contributed to moral decay."
A tighter regulatory environment would help, said Parry.

"If it's only about public health, we should have kept the ban going, but I'm not a fan of prohibition," Parry said. "We could limit advertising, we could have limited the amount of drinks people can buy. People in South Africa indulge in excessive alcohol consumption. The lockdown has given us a glimpse of how things could be without it."