Tory Rebels See Three-Week Limit for May to Dump Brexit Plan
Theresa May is often talked about as a prime minister on the brink of disaster. But more than a year after she squandered her parliamentary majority in an election gamble, she is still in power.
Part of the reason for this is that the people who could have forced her out have not had a credible plan for doing so -- or for who would replace her. Yet there are now signs that a coup plot is beginning to take shape and the next three weeks could be crucial for the future of May's government and how the U.K. negotiates its exit from the European Union.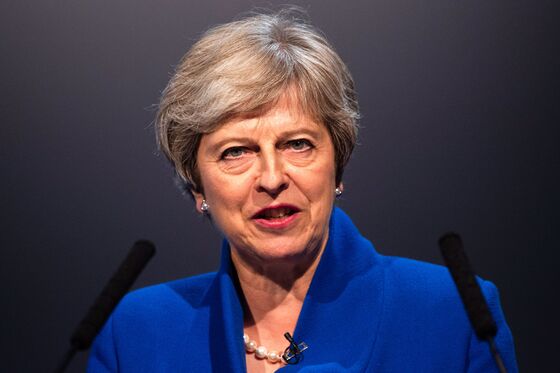 Pro-Brexit Tories are running out of patience with May's refusal to ditch her blueprint for a soft divorce from the bloc. Her opponents say the so-called Chequers plan is a betrayal of the 2016 vote to leave the EU and would leave the country worse off than remaining inside the club.
Euroskeptics in May's party want her to abandon her plan in the next three weeks. If she refuses, they say, she will face the threat of a formal challenge to her leadership of their party, and the U.K. government. That would open the door to forcing her out, throwing Brexit negotiations into chaos as the country searches for a new prime minister.
About 50 pro-Brexit Tories spent Tuesday evening discussing how to replace their leader but there's no plan for an immediate coup, according to people familiar with the matter.
Instead, the plotters will wait to see how May approaches a critical speech at the party's annual conference in Birmingham on Oct. 3, the people said.
If she persists in her plan to keep European Union trade rules for goods, despite opposition from inside her government, May will face a backlash as soon as the conference ends. This is likely to lead to a formal vote of no confidence in her leadership, a move that could force her out of power, the people said, speaking on condition of anonymity because the matter is sensitive.
One member of Parliament said he'd be "shocked" if there is not a formal vote of no confidence in May's leadership immediately after the party conference, while two others warned she would be making a major mistake if she did not change course. A third Tory said colleagues were embittered for a variety of reasons in addition to her plan for Brexit.
Brexit secretary Dominic Raab said he's convinced that Tory lawmakers can be won around to the deal he strikes with the EU.
"I talk to all of my colleagues, whatever their view point, and try and give them reassurance," Raab told BBC Radio 4 on Thursday when asked about the plot. "Of course when push comes to shove there'll be a binary choice between the negotiated deal we've got, that we bring back, I'm confident we'll do that, and no deal -- and I think that will focus minds."
May's aides are on a charm offensive, trying to win over those disgruntled MPs who are mulling whether to vote against her over dinners and cups of coffee. May's supporters want the rebels to stop talking about a coup and try to launch one -- because they believe it will fail and, under party rules, the rebels will have to wait another year before they can try again.
In truth, the result of such a no confidence vote is hard to predict. One minister said that if a formal vote were to be called, May would certainly lose.
And ousting May would not be risk-free for the Tories. A new leader would need to be elected from what's expected to be a crowded field of candidates.
The process could potentially take months, if the contest is put to a full ballot of the party's membership. At the moment, former Foreign Secretary Boris Johnson is the most popular potential contender among Tory grassroots members but he's not certain to win the support he would need among his contemporaries in Parliament.
Switching leaders would also prompt calls for a full general election. The new prime minister would be tempted to seek his or her own mandate to govern from the people. As May found out in 2017, calling a national vote is risky and Tory members of Parliament will want to avoid the danger of defeat. That will also give some Conservatives a reason to think twice before backing a coup.