Conservatives Hail Wins, SNP Making Gains: U.K. Elections Update
(Bloomberg) -- Prime Minister Boris Johnson is celebrating what he called "very encouraging" early results in a crucial set of British elections, after his ruling Conservative Party hammered the main opposition in a high-profile contest in the Brexit-backing town of Hartlepool.
Johnson's party is picking up support in Britain's "Super Thursday" elections on the back of the coronavirus vaccine rollout, as well as completing the divorce from the European Union. On the flip side, pressure is growing on Labour leader Keir Starmer after his party's disastrous showing in Hartlepool and around the country.
In Scotland, results are coming in from parliamentary elections, with the focus on whether Nicola Sturgeon's Scottish National Party can secure a majority she says would be a mandate for another referendum on independence -- something Johnson has flatly refused so far.
Johnson pledges renewed focus on 'leveling up' agenda
Starmer says Labour has lost voters trust but insists he's still the right person to lead the party
Results expected later Friday: key English council districts; the Welsh parliament
Final results for Scottish Parliament and Mayor of London expected Saturday
With 41 councils in England reporting so far, Tories gain control of four and Labour lose control of three. Elections were held in 143 councils
SNP Wins Second Key Marginal District (5:30 p.m.)
The Scottish National Party won its second key marginal constituency in Scotland's parliamentary election, taking the nationalist party a step closer to the majority it's seeking as a mandate for a second independence vote.
Nicola Sturgeon's SNP overturned a deficit of 750 to take the seat from the Scottish wing of U.K. Prime Minister Boris Johnson's Conservative Party by 170 votes. Another four key marginals are expected to be declared before counting ends for the day.
As things stand, the SNP has held onto 25 seats and gained two, and the Liberal Democrats have held three.
Liverpool Elects First Black Female Mayor (5 p.m.)
Liverpool has selected the U.K.'s first directly-elected black female mayor, the Press Association reported, with the Labour Party holding the position after the former incumbent chose not to stand again over corruption allegations.
Joanne Anderson defeated independent candidate Stephen Yip, founder of children's charity Kind Liverpool, by 46,493 votes to 32,079.
Sturgeon Reiterates Independence Vote Pledge (4:40 p.m.)
Scottish First Minister Nicola Sturgeon said her SNP was on course to secure a fourth term in power in an election that was dominated by the question of whether Scotland should have another independence referendum rather than her track record in government.
She told supporters to brace for a "marathon" vote count, and it may not be clear whether the SNP has managed to win a majority until Saturday. Sturgeon reiterated her plan to secure a vote on breaking away from the rest of the U.K., something Johnson has refused.
"I pledge to get back to work immediately to continue to steer this country through crisis of Covid," Sturgeon said after holding her district in Glasgow. "Then, when time is right, to offer this country the choice of a better future."
Tory Mayor Houchen Re-Elected in Landslide (4:20pm)
Conservative Ben Houchen was re-elected as mayor of Tees Valley in northeast England with 73% of the vote. He has been hugely popular in the traditionally Labour heartland since he first became mayor in 2015, and is credited with bringing in much-needed investment and jobs.
The government backed him strongly in this campaign as an important strategic asset in its "leveling up" agenda. Still, the margin of victory is more alarming news for Keir Starmer's Labour.
Starmer: Labour Has Lost Voters' Trust (4:15 p.m.)
Labour leader Keir Starmer did not sugar coat his party's defeats. Speaking to broadcasters, he said the results were "bitterly disappointing" and vowed to learn the lessons and fix the problems.
Labour has spent too long "talking to ourselves" instead of to voters, he said. "We have changed as a party. We have not made a strong enough case to the country."
He insisted he is the right person to lead the party and declined to say whether he would be reshuffling his shadow cabinet team.
SNP Wins Key Marginal Seat (4 p.m.)
First Minister Nicola Sturgeon's Scottish National Party won the East Lothian seat from Labour in the first key marginal seat to change hands so far in Scotland's parliamentary election.
The SNP overturned a Labour majority of 1,127 to win the seat by almost 1,200 votes. That's the first of nine key marginal constituencies that could determine whether the SNP succeeds in securing the majority Sturgeon has said is a mandate for a new referendum on independence.
With 12 constituency seats declared so far, the SNP has held 10 and gained one, with the Liberal Democrats holding one.
Sturgeon: SNP Majority Is a 'Very Long Shot' (3:40 p.m.)
Early results in Scotland suggest the Scottish National Party isn't scoring the increase in support that it needs to win a majority of seats in the Scottish Parliament, according to John Curtice, politics professor at Strathclyde University and the U.K.'s most prominent electoral analyst. That said, it all comes down to nine marginal districts yet to declare.
As she arrived at the count in Glasgow, Scottish National Party leader Nicola Sturgeon said winning a majority in Scotland's electoral system "has always been a very, very, long shot."
Johnson: Renewed Focus on 'Uniting, Leveling Up' (2:50 pm)
Speaking to reporters in Hartlepool, Boris Johnson said his party's win showed voters saw that the Conservatives "did get Brexit done" and now want the government to focus on fresh challenges.
Johnson pledged to continue the vaccine rollout and ensure a strong economic recovery -- "making sure we go from jabs jabs jabs to jobs jobs jobs" -- but said the "massive project" remains "uniting and leveling up," referring to the central pledge in the Tory manifesto.
"There is genius and talent and enthusiasm and flair everywhere in the country, but opportunity is not evenly distributed and that's what I'm trying to change," he said.
Scotland Seeing Strong Turnout in Key Vote (2:30 p.m.)
Early results from the Scottish parliamentary election suggests the electorate has defied expectations of low turnout, amid signs of increased tactical voting in an election that's been framed as a de facto vote on independence.
The debate over Scotland's future as part of the U.K., appears to have engaged voters, according to John Curtice, professor of politics at the University of Strathclyde. While only a handful of constituencies have so far declared results, turnout appears to have increased across most regions of Scotland despite the coronavirus pandemic and poor weather on voting day.
Lib Dem

s Hold Orkney in Early Scottish Results (1:45 p.m.)
The Liberal Democrats held Orkney as expected in the first of Scotland's constituencies to announce parliamentary election results.
The Scottish National Party narrowd the gap in second place, but were unlikely to win in a constituency that -- along with the Shetland Islands -- are traditional Liberal Democrat strongholds. Elsewhere, the SNP held the Aberdeen Donside seat as expected.
The pace of announcements in Scotland should accelerate later Friday, with the focus on nine key marginal constituencies that could determine whether Nicola Sturgeon's SNP wins the outright majority (see 10:50 a.m.).
Johnson Hails 'Very Encouraging' Results (12:50 p.m.)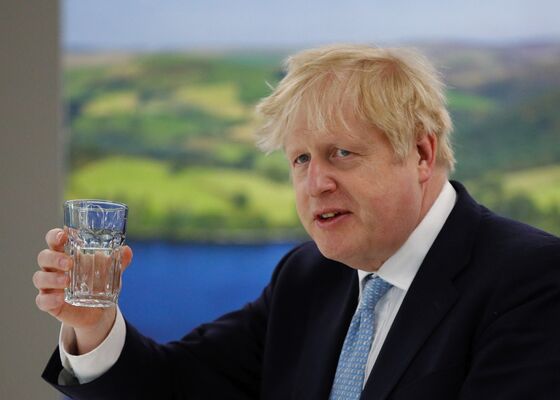 Prime Minister Boris Johnson is heading to Hartlepool to celebrate the by-election win. Speaking to reporters in Coventry, he said: "I know that the results have been coming in since this morning and there's clearly a lot more to go, and it's early days, but it's a very encouraging set of results so far.
"I think that's really because we have been focusing, as a Government, on our priorities, the people's priorities, and bouncing back from the pandemic as much as we can and getting through it."
Cummings Trolls Johnson and Starmer (11:17 a.m.)
The prime minister's former aide Dominic Cummings launched a tirade on twitter against both the main parties, claiming they're out of touch with ordinary voters.
He said politics in the U.K. will "for a while" resemble the David Cameron versus Ed Miliband era, with "two groups focused on the media but not as good at it as Blair, neither focused on country" or being a "serious" government.
Cummings is already on the warpath against his former boss and last month made a succession of allegations over Johnson's handling of the pandemic and integrity in office.
Curtice: Nine Seats Key for SNP in Scotland (10:50 a.m.)
Counting has started in the Scottish parliamentary election, which could ultimately pave the way for a second referendum on breaking away from the 317-year-old union with the U.K.
Results will be spread over two days, with the final outcome not expected until late on Saturday. However due to Scotland's mixed electoral system, the result could hinge on nine key marginal constituency seats, according to John Curtice, professor of politics at the University of Strathclyde in Glasgow.
Of those, six are expected to declare on Friday, which could give a strong indication of whether First Minister Nicola Sturgeon's Scottish National Party is likely to secure the outright majority she has said is a mandate for a new vote on independence.
Labour's Left Slams Direction Under Starmer (10:30 a.m.)
The defeat in Hartlepool is reigniting divisions in Keir Starmer's Labour Party, with criticism especially strong from the socialist left, which dominated under former leader Jeremy Corbyn.
"The leadership are reacting to this disaster by promising 'more change' -- but over the last year we've gone backwards," the campaign group Momentum said on Twitter. "A transformative socialist message has won in Hartlepool before, and it would have won again."
Such criticism is likely to escalate for Starmer, who promised to unite the party when taking office last year, if he can't show Labour is heading toward a first general election victory since 2005 under his leadership.
Mandelson 'Gutted' by Hartlepool Result (9 a.m.)
Peter Mandelson, the Labour MP for Hartlepool between 1992 and 2004 and an architect of former premier Tony Blair's New Labour movement -- which led the party to three general election wins -- said he is "gutted" by the result.
"I feel a mild fury that the last 10 years of what we've been doing in the Labour party nationally and locally has brought us to this result," Mandelson told BBC Radio. "That is above all the explanation of what happened today."
McDonnell: Starmer Should Be 'Given Chance' (Earlier)
John McDonnell, Labour's former shadow chancellor and a key figure on the political left of the party, said leader Keir Starmer should be "given his chance" following the heavy defeat in Hartlepool.
"Keir now needs to sit down and think through what happened in this campaign," McDonnell told BBC Radio. "The Labour Party went into this election campaign almost policy-less. We should never ever do that again."
Labour's Reed: Party 'Hasn't Changed Enough' (Earlier)
Labour's shadow minister for communities and local government, Steve Reed, said the Conservatives had benefited from picking up former Brexit Party supporters in Hartlepool.
"The Brexit Party vote has collapsed into the Conservatives," Reed told the BBC. But Labour also needed to do more to show that they are different under the leadership of Starmer, he said.
"People don't yet understand how the party is changing," he said. "Frankly the party hasn't changed enough."
Conservatives Hail 'Historic' Win in Hartlepool (Earlier)
Amanda Milling, co-chairman of the Conservative Party, said the result in Hartlepool is "historic" and would bring more jobs and investment to the area.
"People recognize that this area has not had a strong voice before," Milling said on Sky News.
Milling also said voters weren't moved by the "sleaze" allegations against Johnson his government in recent weeks, and that the Tories were rewarded for delivering on their manifesto promise to complete Brexit.