Lex Greensill Says His Investors Knew What They Were Buying
(Bloomberg) -- Lex Greensill told lawmakers that investors in loans packaged by his firm were aware of the risks and denied being a "fraudster" in his first public appearance since Greensill Capital collapsed into insolvency in March.
The former Morgan Stanley banker, who founded the eponymous firm in 2011, faced questions from the U.K.'s Treasury Select Committee, which is examining what lessons should be learned from the demise of the lender. Greensill told lawmakers that the vast majority of loans it made were backed by real assets, even those tied to sales that hadn't yet occurred.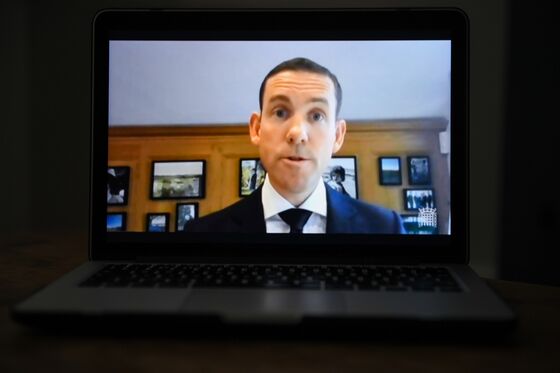 "Every asset that we ever sold was correctly described and that information was prepared and made available to our investors, to our auditors and to our regulators," 44-year-old Greensill told the committee on Tuesday.
Greensill said that it specialized in working capital finance, a humdrum form of lending where banks buy invoices from companies at a discount. The company also offered a more exotic form of financing it termed "future receivables," loans that were extended on the basis of the prospect of future invoices, and then insured. Such lending has a far higher risk profile than the funds that bought Greensill products.
The collapse of Greensill has drawn intense scrutiny from Germany to Australia as its swift unraveling left investors facing several billion dollars in potential losses. The firm, with the backing of SoftBank Group Corp. and General Atlantic LLC, went from a small startup to a tech unicorn with an estimated $7 billion valuation at one point.
It collapsed in March after a key insurance partner didn't renew coverage on loans Greensill made to key customers, including British steel magnate Sanjeev Gupta's GFG Alliance and West Virginia miner Bluestone Resources. Greensill emphasized the role of the trade credit insurer, Tokio Marine Holdings Inc, in the firm's collapse while apologizing for exposing his company to concentration risks.
"It is deeply regrettable that we were let down by our leading insurer, whose actions assured Greensill's collapse," he said. "I bear complete responsibility for the collapse of Greensill Capital."
said that Sanjeev Gupta's GFG Alliance was not Greensill's biggest customer by assets
revealed Gupta at one point held shares in Greensill but sold them at the same price he'd bought them for as he became a bigger customer of the lender
said Greensill Capital owes council tax on its London offices
acknowledged his company had an over-reliance on insurance generally and had purchased too much from one particular insurer
blamed Covid, risk concentration and BaFin's actions for Tokio Marine's decision to withdraw its coverage
said former U.K. prime minister David Cameron wasn't a director of Greensill, but regularly attended board meetings
flagged last year Greensill funded $143 billion of receivables, less than 20% of those were future receivables
suggested the ultimate form of security the lender had was bricks-and-mortar
At the end of 2020, Greensill was working with German regulator BaFin on a plan to reduce the concentration of risk to a single client at its Bremen-based banking unit. Eventually, that made Greensill realize that the business was at risk, and led to the appointment of restructuring advisers at the end of December, he told the committee.
Greensill faced often hostile questions from many of the panel members, especially those from the opposition Labour Party. Rushanara Ali accused him of running what amounted to a "Ponzi scheme" that smacked of "fraudulent behavior." Siobhain McDonagh asked him outright: "Are you a fraudster?" and Angela Eagle said: "it looks increasingly like you were securitizing invoices that didn't really exist." Greensill denied the allegations.
Earlier on Tuesday, the U.K.'s Financial Conduct Authority told the committee it's investigating Greensill.
The FCA's Chief Executive Officer Nikhil Rathi wrote in a letter that the regulator is "cooperating with counterparts in other U.K. enforcement and regulatory agencies" and working with German, Australian and Swiss authorities looking into Greensill entities.
The agency has oversight of some Greensill entities both under its anti-money laundering rules and through a separate regulated firm Mirabella Advisers LLP, which acted as a representative for Greensill, but not directly on its supply chain financing, according to the letter. A representative for Greensill declined to comment. Officials at Mirabella didn't respond to calls and emails seeking comment.
Chancellor of the Exchequer Rishi Sunak, former prime minister and Greensill's lobbyist David Cameron and the Bank of England also sent letters to lawmakers ahead of the hearing.
Read more: BOE Says It Didn't See Greensill's Failure as a Systemic Risk
Sunak wrote his team followed "normal" procedures at all stages as Cameron lobbied the Treasury to allow Greensill to access the Bank of England's Covid Corporate Finance Facility last year. Sunak and Cameron released details of more than 150 calls, emails, text and Whatsapp messages and meetings relating to Greensill.
Greensill's initial request was rejected because of factors including the ineligibility of financial institutions, a plan to submit non-investment grade assets, and use of some foreign currencies, Sunak said in the letter.
After Greensill was barred from accessing the program, Cameron texted Sunak to say the refusal was "nuts," according to the documents. At the time, he also contacted Prime Minister Boris Johnson's senior aide and sent texts to Cabinet Office minister Michael Gove to lobby for Greensill.
The government then investigated an alternative workaround that would have allowed eligible companies to access funds for supply chains via a special purpose vehicle managed by Greensill. It was abandoned because industry experts found it ineffective, Sunak said.
The former prime minister wrote that he first became aware of Greensill's problems in December 2020 following a call he received from the founder. Cameron will appear on the Treasury Select Committee on Thursday.