Top Turkish, U.S. Defense Officials to Meet on Syria Troop Exit
(Bloomberg) -- Turkey's Defense Minister Hulusi Akar will meet his acting U.S. counterpart Pat Shanahan in Washington this week to discuss the pullout of American troops from Syria and Ankara's concerns over U.S.-backed Kurdish forces there.
Turkey is increasingly impatient over the delayed U.S. withdrawal that's holding up its plans to create a safe zone inside Syria to ward against security threats from Kurdish fighters it regards as an offshoot of the Kurdish separatist PKK group it's battled for decades. The Kurds were armed by the U.S. to take a leading role in battling Islamic State.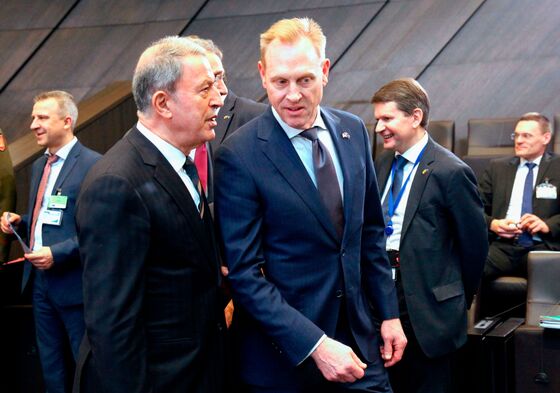 Akar is likely to again pressure Washington to force the Kurdish YPG militia from the town of Manbij. Turkey has amassed troops near the town and along the border with northeast Syria, threatening to attack at any time. The minister will be accompanied by General Yasar Guler, chief of the Turkish army, with both men leaving for the U.S. on Thursday after attending a winter military exercise in eastern Turkey.
President Donald Trump's unilateral decision to bring American troops back home has been complicated by opposition at home and the refusal of NATO allies to help fill the void after the withdrawal. The U.K. and France plan to pull their forces as well if American soldiers leave, the Washington Post reported Wednesday.
The strident tone taken against the YPG by Turkish President Recep Tayyip Erdogan could help attract nationalist voters in local elections in March. "We will definitely inflict a very heavy blow soon on the terrorists," Erdogan threatened on Feb. 19, referring to the Kurdish force.