Top Pollster Charts Macri's Best Path to Argentina Election Win
(Bloomberg) -- Argentine President Mauricio Macri's best chance at winning re-election would be in a runoff against former head of state Cristina Fernandez de Kirchner, one of the country's top pollsters said in an interview.
"If Macri goes against Cristina in a runoff, and the economy remains stable, he has a high chance of winning," said Alejandro Catterberg, director of Buenos Aires-based polling firm Poliarquia, which states it correctly predicted all 21 political races it followed from 2005 to 2015, including Macri's win. "If for some reason Cristina isn't a candidate, she drops out or finishes third, then Macri won't be the favorite."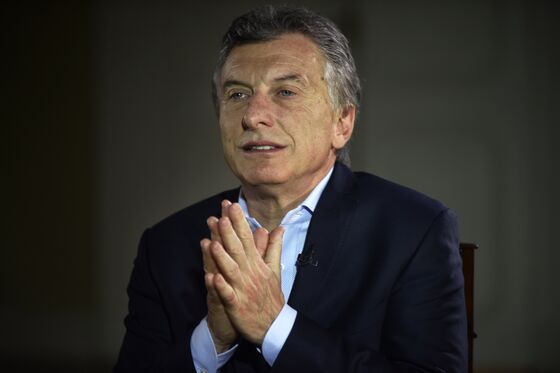 Macri is seeking a second term amid turbulence that's plunged South America's second-largest economy into recession, decimated the value of its currency and prompted policy makers to seek billions in relief from the International Monetary Fund. In first round vote scheduled Oct. 27, Macri will likely face off against Kirchner's coalition and also the broad Peronist party, which could produce several contenders.
Under Argentine election rules, a presidential candidate who gets 45 percent of the first round vote wins outright. A candidate can also win upon receiving 40 percent of the vote and beating the runner-up by at least 10 percentage points. Otherwise, the two top finishers go to a runoff, which is scheduled for Nov. 24.
Kirchner's public image has taken a hit from multiple graft accusations, and several of her former senior cabinet members are in jail following bribery and corruption convictions. Meanwhile, Macri has tried to steer the national conversation away from economic gloom to issues of security and infrastructure projects, where the government is viewed more favorably.
Still, amid deep political polarization, a Peronist candidate that makes it to the second round against Macri would draw some support from Kirchner backers and consequently secure better chances of winning, Catterberg said. About a third of Argentine voters are either undecided or considering potential Peronist candidates, he said.
For now the base forecast is for a politically volatile year with a relatively stable economy, said Catterberg. If Kirchner decides not to run for office, that would be a major shock to the outlook. Parties have to submit early candidate lists on June 22, ahead of August primaries.
Amid growing unease over his pro-market policies, Macri's re-election bid would be damaged if there's a repeat of last year's currency collapse when the peso lost 50 percent of its value against the U.S. dollar. Central bank policies will consequently have more influence on the election outcome than the Economy Ministry, according to Catterberg, who holds a Master's degree from Columbia University.
Catterberg pointed out that real wage growth tends to correlate with voter sentiment. Salary growth trailed inflation last year, but pay boosts for pensioners, retirees and workers from March onwards could reverse that trend.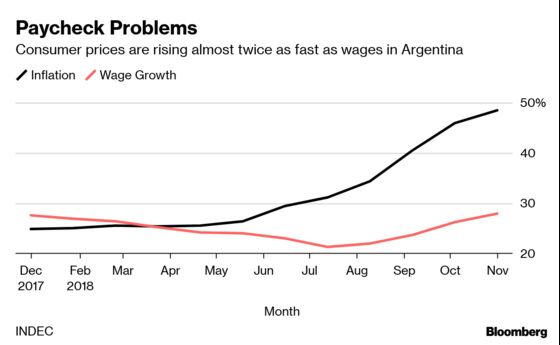 "If real wages don't recover because inflation remains higher, it'll be very difficult for Macri to win," Catterberg said.