Top ANC Body Ready to Debate Alleged Ramaphosa Plot, Sources Say
(Bloomberg) -- The top leadership of South Africa's ruling African National Congress will this weekend discuss an alleged plot to remove its president, Cyril Ramaphosa, according to three people familiar with the matter.
The party has been rocked by revelations of a meeting between its secretary-general, Ace Magashule, and former President Jacob Zuma, allegedly to discuss how to replace Ramaphosa. Magashule admitted that he had met Zuma and other officials in Durban on Sept. 6 as reported by the Johannesburg-based Sunday Times newspaper, but said the talks were about party "organizational issues."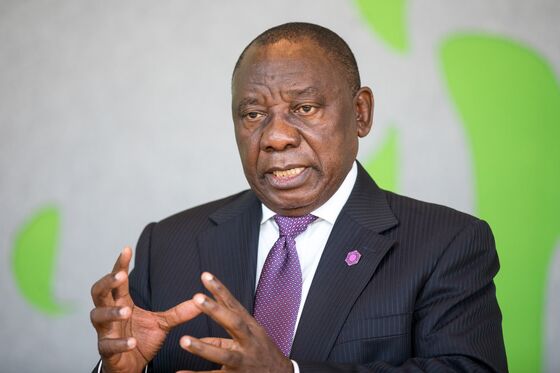 The National Executive Committee, the ANC's top decision-making body after its five-yearly national congress, will debate the issue at a three-day meeting starting on Sept. 28, according to the people who asked not to be identified because they aren't authorized to talk publicly on the topic.
Magashule also held talks or met with other party officials and members including Supra Mahumapelo, a Zuma backer who was ousted as the premier of the North West province.
The Sunday Times said that Zuma, Magashule and other top officials held a secret meeting where they discussed ways to remove Ramaphosa as leader of both the party and the nation. The ANC forced Zuma to resign as president in February and replaced him with Ramaphosa, who was elected party leader by a slim margin in December.
Mahumapelo and Magashule were part of a bloc of key supporters of Zuma during his scandal-marred nine-year tenure and had backed his favored candidate, Nkosazana Dlamini-Zuma, to succeed him as ANC president.
Ramaphosa lambasted his detractors on Sept. 17 and urged party members to focus on the general elections to be held next year.
"We should not spend our time on counter-revolutionary machinations in dark corners that undermine the will of our people," he said in a speech at a Congress of South African Trade Unions gathering.