Toomey Says He Doubts Trump Remains GOP's 'De Facto' Leader
(Bloomberg) -- Republican Senator Pat Toomey says he doubts that former President Donald Trump will remain the GOP's "de facto" leader by the next presidential election, and he said the party should reject Trump's populist message in favor of a traditional small-government approach as it looks toward the 2022 midterm elections.
"I don't think he will be seen as the de facto leader of the party, certainly not by 2024," Toomey, who isn't seeking re-election to his Pennsylvania seat in 2022, said on Bloomberg TV's "Balance of Power," in an interview Monday. "And in 2022, I think we've got a very good shot at winning."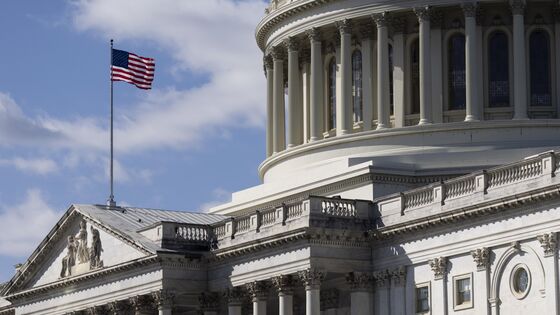 Toomey said Trump was protectionist, a populist and favored "lots of big government spending." Republicans would be better positioned to retake control of the Senate and House by stressing lower taxes and policies that can expand job creation, setting up a greater contrast with President Joe Biden and Democrats, he said.
Toomey said the Biden administration is trying to push the country "too far left" with its agenda. And because of that and the fact the party out of power historically fares well in midterm elections, Toomey said, voters are likely to reward the GOP in 2022.
Trump has retained major influence in the party with a fervent following among voters. That has divided GOP officeholders as he lashes out against critics and continues to promote his false claims of fraud in the 2020 election.
The former president waged a public campaign against Wyoming Representative Liz Cheney, who was ousted last week from the No. 3 House GOP leadership position after her frequent criticisms of Trump. She was replaced by Trump loyalist Representative Elise Stefanik of New York, who after her election as House GOP conference chair on Friday thanked Trump and nodded to his prominence in the party.
"He is a critical part of our Republican team," Stefanik said, adding that voters determine who leads the party and "President Trump is the leader they look to."
Toomey is one of seven GOP senators who voted to convict Trump for inciting the Jan. 6 insurrection at the Capitol during his second impeachment trial in January, and one of the first to acknowledge Joe Biden's presidential victory. He earlier said Trump's refusal to concede the 2020 election to Biden was "a lawless attempt to retain power."
Separately, Toomey said he is somewhat optimistic that the White House and congressional Republicans could reach some consensus on an infrastructure package that is a central facet of Biden's $4 trillion economic plan.
Toomey and a handful of other Republican senators met with Biden Thursday to talk about how and whether they can breach a gap between the $568 billion Senate Republicans have proposed over five years for roads, bridges and other traditional projects and the $2.25 trillion in spending Biden seeks over eight years. Biden wants much more for rail and water, along with money for electric vehicles, housing and elder care the GOP left out.
Toomey said that a compromise in the range of $600 billion to $800 billion, which Minority Leader Mitch McConnell has suggested, "is probably in the right ballpark." He said he's also hopeful that the White House and lawmakers could reach a deal on the broad outlines of a bill within a few weeks and that Congress could move on legislation before a scheduled July 4 recess.
At the same time, Toomey said he won't agree to allow any portion of the 2017 tax cuts that passed with only GOP support to be used to help offset the costs for any package. He said there are other ways to pay for it that could include roadway tolls and other higher user fees linked to infrastructure projects, hundreds of billions of dollars in unspent state and local pandemic aid, giving the Internal Revenue Service added resources to go after tax cheats or who don't pay all the taxes they owe.
"If the exercise is ensuring that people pay what they actually owe, that's a legitimate exercise," Toomey said.
Toomey announced in October that he wouldn't seek re-election to the Senate in 2022, saying he wants to spend more time with his family, which has remained in Pennsylvania. His seat is rated a "toss-up" by the nonpartisan Cook Political Report.