Japan's Suga Recommends Tokyo Virus Emergency as Olympics Near
(Bloomberg) -- Japanese Prime Minister Yoshihide Suga recommended placing Tokyo, Osaka and other areas under a state of emergency to stem a surge in coronavirus infections just three months before the capital hosts the Olympics.
Suga was looking to also place Hyogo and Kyoto prefectures, which border Osaka, under a state of emergency, telling reporters Thursday he will make a formal decision after consulting with experts.
Suga has previously approved measures within a day of issuing a recommendation on stepped up virus restrictions, with local media saying the declaration was expected to come Friday. The emergency is likely to be in place from April 25 to May 11, covering the "Golden Week" string of national holidays, Jiji Press said.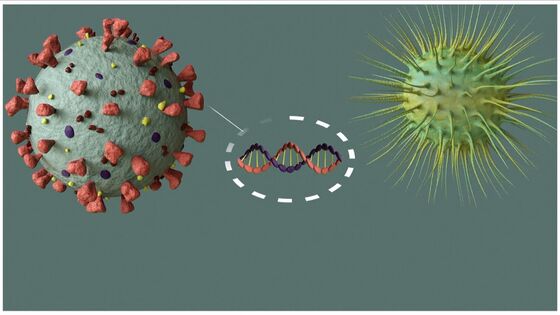 While Japan has so far succeeded in keeping coronavirus infections and deaths at far lower levels than those seen in much of Europe and the U.S., its vaccine program has yet to kick into high gear, meaning restricting activities is the most powerful tool Suga has for reining in case numbers.
Central and local governments are tussling over how harsh the measures should be under the third emergency since the pandemic broke out, the Yomiuri newspaper reported. Stricter regulations, including an unprecedented ban on sales of alcohol at bars and restaurants, are among the proposals being discussed. But tighter restrictions on activity could delay the economy's recovery and deal a heavy blow to struggling businesses.
Tokyo recorded 861 new cases Thursday, the highest level since late January, while Osaka found 1,242 infections Wednesday, a record for the prefecture.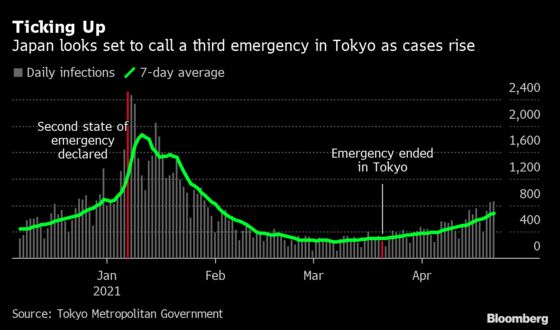 Suga this week reiterated he was determined to press ahead with the Olympics, one of the biggest global events of the pandemic era. The international sports spectacle has also raised fears in Japan of it becoming a superspreader event. The games have already been delayed a year due the pandemic, and 73% of those surveyed in Japan over the weekend said they were against the event, according to a weekend poll conducted by broadcaster ANN.
International Olympic Committee President Thomas Bach told reporters the emergency declaration was not related to the event. Bach is set to visit Japan May 17-18, two months before the Olympics, Kyodo said Wednesday, citing sources close to the matter.
The head of Japan's Olympic Organizing Committee, Seiko Hashimoto, said the latest virus surge might mean the final decision on the number of spectators to be allowed at the event could be delayed.
"If the Olympics are really going to be held in July, I think the infection needs to be settled down by late May or early June. Therefore, I think the government is taking stronger interventions relatively early on," Haruka Sakamoto, a public health researcher at the University of Tokyo, wrote in an email.
There is no law that prohibits the Olympics from taking place under an emergency, but it will likely impact the number of domestic spectators allowed. Overseas fans are already banned from the event.
Another major international event, the Tokyo Motor Show, which had been set for autumn this year, was canceled due to fears over the pandemic, Japan Automobile Manufacturers' Association Chairman Akio Toyoda said Thursday.
Suga's government already imposed limited restrictions this month in Tokyo, Osaka and other regions to slow the spread, instructing bars and restaurants to close by 8 p.m. or face fines. Some schools in Osaka are also closed, according to NHK.