Tokyo Olympics Organizers to Meet Over Chief's Sexist Remarks
(Bloomberg) -- The Tokyo Olympics organizing committee plans to hold an emergency meeting this week to discuss the uproar over disparaging comments about women made by its chief, people familiar with the matter said Tuesday.
The meeting comes as Yoshiro Mori, an 83-year-old former prime minister with a history of gaffes, has been under fire for telling reporters last week that women talk too much in board meetings. He later apologized and retracted his remarks, but said he wouldn't resign.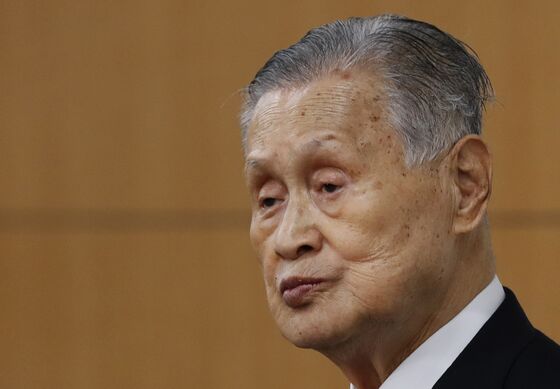 The comments have touched a nerve domestically, underscoring what many say are patronizing and paternalistic views of some senior political leaders who are out of touch. Prime Minister Yoshihide Suga and Finance Minister Taro Aso have both said Mori's comments hurt Japan's national interests. Tennis star Naomi Osaka, one of the most celebrated athletes representing Japan, said ahead of the Australia Open that it "was a really ignorant statement to make."
About 60% of respondents to a survey carried out by the Mainichi newspaper over the weekend said Mori was not an appropriate person to head the organizing committee.
Irritation over his remarks threatens to undermine already waning public support for staging the Olympics from July. Organizers said about 390 of the 80,000 volunteers recruited to help organize the event had dropped out after Mori made the comments.
Another octogenarian Japanese political leader was also on the defensive after Kyodo reported he backed Mori and said the thoughts of volunteers will change once the situation settles down. Toshihiro Nikai, the 81-year-old secretary general of the ruling Liberal Democratic Party, told reporters Tuesday there was no deep meaning to comments he made over the volunteers.
The Tokyo Olympics and Paralympics were postponed for a year because of the coronavirus pandemic. Organizers and the Tokyo government are struggling to find a safe way of hosting the events, with Japan's vaccination program yet to begin.
Suga has said he was determined to hold the games that can be seen as proof the world has defeated Covid-19. But amid the delays, rising costs and worries the global influx of visitors could spark a fresh virus wave in Japan, public support has plummeted for the Olympics. A survey this month showed only 16% of Japanese think the event should go ahead as planned this summer.