Togo President Extends 15-Year Rule With Election Win
(Bloomberg) -- Togolese President Faure Gnassingbe easily secured a fourth term in a Feb. 22 vote, extending his family's half century-long rule of the West African nation.
Gnassingbe won 72% of the vote, the president of the Independent National Electoral Commission, Tchambakou Ayassor, said Monday. Opposition candidate Agbeyome Kodjo, a former prime minister, received 18%. Voter turnout was 76% of the more than 3.6 million registered voters.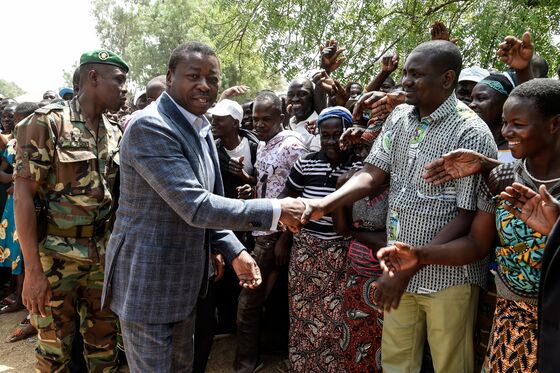 Gnassingbe said after casting his ballot that he was pleased with the turnout and thanked voters for their support.
Gnassingbe, 53, has ruled Togo since the 2005 death in office of his father Gnassingbe Eyadema, who seized power in a 1967 military coup. His efforts to turn the country into an economic and logistics hub have paid off. Pan-African lender Ecobank Transnational Inc. has its headquarters in the capital, Lome, which is also the seat of West African carrier Asky Airlines. The economy grew by 4.9% last year, according to the World Bank. Still, most of the about 8 million Togolese live in poverty.
In May, lawmakers unanimously approved constitutional changes that enabled Gnassingbe to stay in power until 2030. The changes reinstated a presidential term limit that can't be applied retroactively and guarantees immunity from prosecution for former presidents.
The proposal to change the constitution triggered mass protests in 2017 and again in 2018, with hundreds of thousands of people demanding an end to Gnassingbe's rule, as well as a boycott of legislative elections by the main opposition alliance that handed an overwhelming parliamentary majority to the ruling party.
The preliminary result of the presidential vote needs to be validated by the Constitutional Court.