Latvian Parties Deal Blow to Premier Trying to Form Cabinet
(Bloomberg) -- Three Latvian political parties pulled out of talks to form a government with Prime Minister-designate Janis Bordans, dealing a fatal blow to his chances to form a cabinet by the Nov. 21 deadline.
Their exit cripples his chance to muster majority support in parliament for a government as the Baltic nation continues to reel from scandals including the demise of its third biggest-lender, accused of money laundering, and bribery charges against its central bank governor that he denies.
Bordans was looking to create a center-right coalition, likely consisting of five parties and similar to formations that have largely ruled Latvia since its independence in 1991. For Development/For, the National Alliance and New Unity decided to end talks, citing a lack of mutual trust among potential partners, BNS news service reported on Wednesday.
"This is the most confusing time in forming a government since at least 1995," said Daunis Auers, a political science professor at the University of Latvia. "With all the parties so evenly placed, no one is in a position to take on leadership."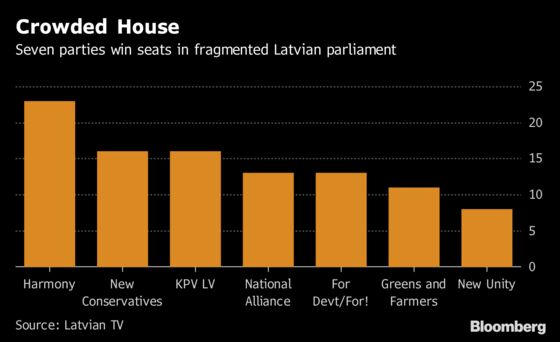 President Raimonds Vejonis will probably now give someone else a chance to form a coalition. But forging a new ruling alliance will be difficult because Bordans' New Conservative Party may be offended by Wednesday's developments, Dauers said.
Latvian parties have pledged to block the Russian-leaning Harmony from power after it won the most votes for a third straight election.