Third-Time Presidential Candidate Seeks Third Way in Brazil
(Bloomberg) -- With Brazil's politics in meltdown, a softly-spoken, mixed-race woman from a remote Amazonian province believes she can lead Latin America's largest economy after two failed presidential bids.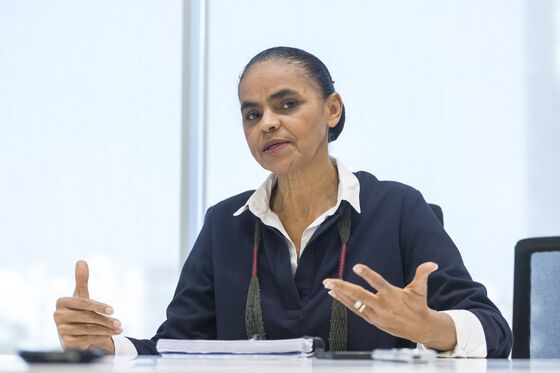 Marina Silva, a former environment minister born into a poor rubber-tapping family, argues that after years of high unemployment, grinding recession and corruption scandals, Brazilians are hungry for change in the country's politics. Currently running second in opinion polls, and unaffiliated with any of the major political parties, she believes she can build a ruling coalition based on her proposals rather than the traditional give and take of Brazilian politics.
That's a bold proposition in a country where presidents traditionally need to forge large alliances to get legislation through a highly-fragmented Congress. But with the legislature thoroughly discredited in the eyes of the electorate, she believes positioning herself firmly in the center will lure voters on both the right and left.
"Historically, elections were won on labels: one says big state, the other says small state," Silva said in a Bloomberg interview. "Enough labels. In our case, we're saying we want a necessary state."
Opinion polls show she would inherit many of the votes of former President Luiz Inacio Lula da Silva, who will likely be barred from running, and dispute a second round with far-right congressman Jair Bolsonaro in the October election.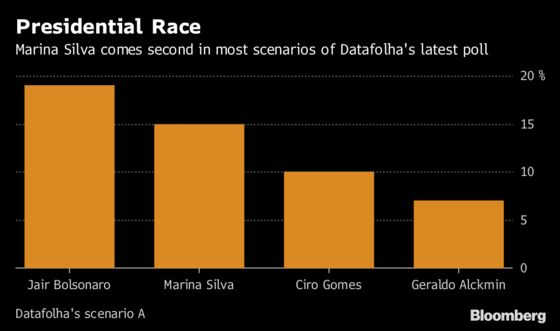 Silva said that it was unhelpful to reduce politicians to market cheerleaders or skeptics, arguing instead that a healthy economy required investment in healthcare, security and infrastructure. On privatization she said that she was not opposed in principle, but that selling off state assets had to come as part of a plan.
As such, she said she was against the current government's approach to privatizing Eletrobras, the state run-energy utility. She also ruled out privatizing the oil giant Petrobras, as well as the banks Caixa Economica Federal and Banco do Brasil.
While acknowledging the need for a reform of Brazil's pension system, she said that President Michel Temer's plan failed because his government lacked credibility. As for the constitutional cap on spending implemented by his government, she described it as "unreasonable".
"Public spending must be controlled, and you can't have a spendthrift attitude," she said, but added that the constitutional amendment "did not solve the problem."
Silva repeatedly referred to the importance of job creation in a country where almost 13 million are currently out of work. She also said she favored building on the success of Bolsa Familia, the conditional cash benefits program, to encourage more of its recipients to enter the workforce.
As for the central bank, Silva said she was opposed to granting the institution formal autonomy but said that it should be independent so that it avoids becoming "the target of political opportunism".
Rede Sustentabilidade, Silva's party, has just three representatives in Congress. Asked whether she would seek alliances in order to boost her campaign in terms of cash and TV time, she said she didn't believe that her success or failure would depend on party structures. But she added, without offering any names, that she would seek a vice-presidential candidate with a "complementary profile" to her own. In office, she plans to govern by attracting talented politicians from across the spectrum.
Silva is a "formidable candidate" according to David Fleischer, professor emeritus at the University of Brasilia, but with one major handicap."Her problem is that her party is tiny," he said. "Her base for campaigning and support state-by-state is very small."
That may matter slightly less for her candidacy, given the fact she already has reasonable name recognition from her previous bids for the presidency. But in both 2010 and 2014 she failed to make the run-off with the combination of her environmental activism and social conservatism proving an awkward mix for many voters.
"In 2014, when she was under fire, when she was put to the test in the debate over proposals, she appeared very fragile," said Ricardo Sennes, a partner at Prospectiva Consultoria.
On political reform, she favors an end to re-election to ensure that politicians don't just work towards securing their jobs on polling day, while on security she spoke of the need to couple crime-fighting with opportunities for low-income communities.
But at present she remains reluctant to be drawn on many of the details of her policies, insisting that solutions to the country's challenges require wide-ranging debate with society and politicians from all sides.
"There are good people in all the parties, I want the best," she said.