Theresa May's Time Is Almost Up on Brexit Deal
Prime Minister Theresa May is running out of options to secure an acceptable agreement for the U.K's departure from the European Union – now less than six weeks away.
If she fails to do so by Feb. 26, it's likely Parliament will vote to wrestle the Brexit process from her a day later. Her officials are in Brussels this week in a last-ditch attempt to secure concessions on the most contentious part of the divorce agreement: the so-called backstop plan for avoiding a hard border between the U.K. and Ireland.
Fracturing in Parliament may complicate matters. Seven U.K. lawmakers quit the Labour Party yesterday over issues that included Brexit. While a weakened opposition should be good news for May, it could turn out badly if pro-EU members of her Conservative Party also jump ship. And it makes a cross-party compromise on Brexit harder to pull off if she decides to try that route.
In Ireland, Prime Minister Leo Varadkar must also decide whether to compromise on the backstop. If he and the EU dig in and the U.K. leaves without a deal, it would deliver a shattering blow to Ireland's economy by bringing about the very thing the backstop is designed to avoid – a post-Brexit hard border.
That means May's not the only one under pressure.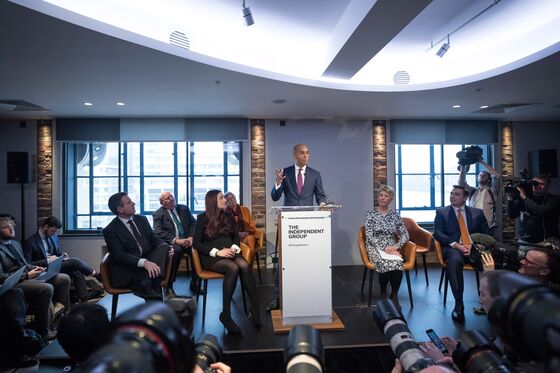 2020 preview | President Donald Trump called on the Venezuelan military to drop its support for Nicolas Maduro in a Miami speech critical of socialism, a nod to attacks he may deploy in his re-election campaign. Republicans have portrayed Democratic proposals to expand government-run health insurance programs and combat climate change as socialist.
States fight back | California is suing to block Trump from diverting federal funds to pay for his promised wall on the Mexican border. Fifteen other states joined the move, claiming that the president's national emergency declaration exceeds the power of his office. Trump's decree breaks with his predecessors' because he wants to upend spending set by Congress.
Among friends | The F-16 fighter jet escort and a car chauffeured by Pakistan's prime minister displayed a warm welcome for Saudi Crown Prince Mohammed Bin Salman as he began his grand tour of Asia. The cordiality threw into sharp relief the Saudi leader's strained relationship with the West after the killing of critic Jamal Khashoggi in October.
First blood | Just 45 days into his government, Brazilian President Jair Bolsonaro has fired his first cabinet minister. Gustavo Bebianno, one of the president's earliest and most devoted supporters, departed following reports the party he ran misused election campaign funds. The dismissal highlights a widening rift in Bolsonaro's inner circle that threatens to derail a pension reform considered essential to Brazil's economic recovery.
Comeback city | The Italian port of Genoa, once the world's richest city with an empire stretching from Syria to Crimea, is staging a comeback. After a devastating bridge collapse, natural catastrophes, a wild-boar invasion and a steep population decline, officials are leveraging a nationwide sense of solidarity to launch infrastructure upgrades in a bid to return the city to its heyday as a European maritime power.
Democratic presidential candidate Elizabeth Warren will unveil a universal child care plan today aimed at limiting American families' expenses to 7 percent of income regardless of how many children they have in care.
Bernie Sanders, the independent Vermont senator who finished runner up to Hillary Clinton for the 2016 Democratic presidential nomination, could announce another run for the White House as soon today.
Trump is considering four people to be his next UN ambassador: Goldman Sachs Group Inc. partner Dina Powell, the current ambassadors to Canada and Germany – Kelly Craft and Richard Grenell – and John James, a former Republican U.S. Senate candidate from Michigan.
And finally ... Long-time Trump ally Roger Stone's colorful antics have once again landed him in hot water. Stone, who is under indictment as part of Special Counsel Robert Mueller's Russia-meddling probe, apologized to a federal court for a photo he put on Instagram of the judge presiding over his case. The image "included her name, a close-up of her face and what appeared to be the crosshairs of a gun sight near her head," the Washington Post reported.