Theresa May's Political Turnaround in Just Over a Week
The upbeat Theresa May who stepped out from 10 Downing Street to face television cameras was a very different-sounding prime minister in both tone and message to the downcast leader of a week ago.
The bookend appearances -- both under five minutes -- illustrate the ever-changing fortunes of May. One minute she looks like she's on her way out, the other she has a deal and lives to fight another day. It also mirrors the nature of British politics as the country convulses through Brexit.
Dressed in white on a winter's day, May came out of her office much earlier than expected to confirm the U.K. and the European Union had forged a political declaration setting out the parameters for their future agreement. There were tangible wins for her in the text -- things she can use to appease Brexiteers in her own party -- and she can now look forward to clinching the accord on Sunday with fellow leaders.
"That deal is within our grasp and I am determined to deliver it," were May's parting world to television cameras.
What a contrast to last Wednesday, when she emerged late at night from a bruising six-hour marathon with her Cabinet in a dark suit, looking decidedly unhappy after dragging a reluctant Cabinet to back her.
"But if I may end by just saying this: I believe that what I owe to this country is to take decisions that are in the national interest," she concluded. "And I firmly believe with my head and my heart that this is a decision which is in the best interests of our entire United Kingdom."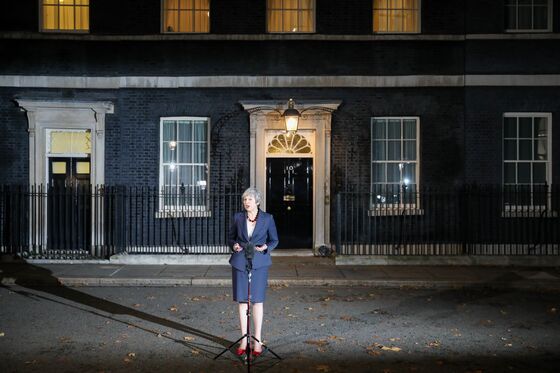 The morning after she was stung by high-level departures as her chief Brexit negotiator handed his resignation and Conservative hardliners mounted a revolt to oust her. The immediate danger has receded -- as it has in the past -- but that isn't to say she's safe.
As hard as it was to get here, this was always going to be the easy bit. May now must somehow defy parliamentary math, which points to her being unable to get her hard-won deal past the House of Commons -- that might be the stage where her enemies strike.