Theresa May's Enforcers Lay Off Torture to Win Key Brexit Vote
(Bloomberg) -- On the office mantelpiece of Julian Smith, the U.K. government's chief whip, are two of the instruments of torture from which his job takes its name. One has a bone handle. The other is plaited black leather, with metal studs.
But as he tries to save both his own job -- and that of the prime minister -- Smith seems to be relying more on gentle persuasion than the prospect of pain to rally support for Theresa May's Brexit deal.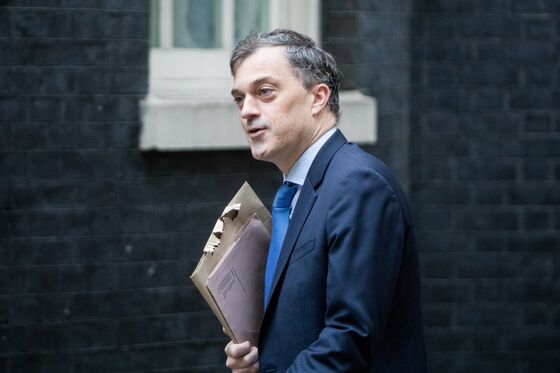 On Dec. 11, May will ask Parliament to endorse the divorce agreement she spent the last year and a half negotiating with the European Union. It falls to Smith and his fellow "whips" to enforce party discipline and ensure Conservatives follow orders and vote the right way.
As things stand, almost nobody believes May will win. Dozens of Tories have attacked her proposal, either because they want a harder Brexit or because they want no Brexit at all. If she loses, there's a real chance she could be gone soon afterwards, as the U.K. stares at a cliff-edge departure from the EU without a deal to cushion the fall.
And yet few Tories in Parliament say they've had even an approach from a member of Smith's team of whips, asking them if they support May's plan. Tories who are Brexit-backers, pro-Europeans, and even those who can't make up their minds report in private that no government whip has yet asked them how they're voting.
To add to the mystery, May has been away from Westminster -- where her members of Parliament all work -- and has embarked on a campaigning tour around Britain to build public support for her plan.
Has the government given up trying to win the parliamentary vote? Some Tories think they know what's behind the strategy. "They're clever," one explained, speaking on condition of anonymity to discuss party tactics. "It won't be a whip that comes to you, it'll be a friend." It was, the Tory said, like the warning Michael Corleone is given in "The Godfather" -- the person who comes to betray him will be someone he trusts.
Another likely rebel agrees with this theory. The Tory thought the point of May's national tour was really to win the support of the Conservative Party's grassroots activists, rather than the wider public. These faithful party members will then put pressure on the professional politicians who have to vote on it, or so the theory goes.
Another Conservative offered his own experience of the operation. He hadn't been approached about the vote, he said -- but his wife had.
So far, there is little sign that the use of soft power is working, and one member of Parliament said he'd been told the whips were preparing to make a concession aimed at buying off some rebels.
Mark Tami has been a Labour Party whip for a decade, in government and now in opposition. In an interview, he described the methods for trying to persuade rebels in the run-up to a vote. "You say, 'Do you really want to do this? This could be the end of the prime minister."'
The Labour whips divide their members of Parliament up by region, and maintain a grid of where each of them stands on each issue. "It is about talking to people on a regular basis not on a crisis basis," said Tami. "It's a pastoral role. For new members, it's about making sure they're fitting in."
When the big votes come, Tami said, it's best not to go for the hardliners. "You start by picking them off from the middle. First of all you invite them to see the whips, then the chief whip, then you get the minister to speak to them. The day before the vote you clear the prime minister's diary -- that is where the pressure mounts."
When Gordon Brown was prime minister, he would spend the day before a tight vote in his office in Parliament meeting one potential rebel after another, trying to win them round. May has already met at least one ardent Brexit supporter, who said he spent half an hour listening to her case, but left unpersuaded.
If rebels can't be won over, they can be neutralized, Tami said. "We'll say: 'Why don't you just go home?''' One Tory said he'd already heard of colleagues being urged to abstain ahead of this vote.
With less than two weeks to go before the vote, there still seems little prospect of anything other than a heavy defeat for May. If the chief whip wants a reminder of where that might lead, he only needs to look on his wall at a painting by former Prime Minister Winston Churchill, dated to 1922. It's an idyllic scene of a lake in Southern France, but it was produced in turbulent times.
At the end of that year, Conservative members of Parliament rebelled against their then leader, Austen Chamberlain, leading to his resignation, the collapse of the government, and a general election.