Theresa May Fights Yet Another Day as Threat Recedes, for Now
(Bloomberg) -- Once again, Theresa May lives to fight another day. After yet another weekend in which members of her U.K. Conservative Party said that they were on the point of throwing the prime minister overboard, by Monday evening talk of a challenge to her had again receded.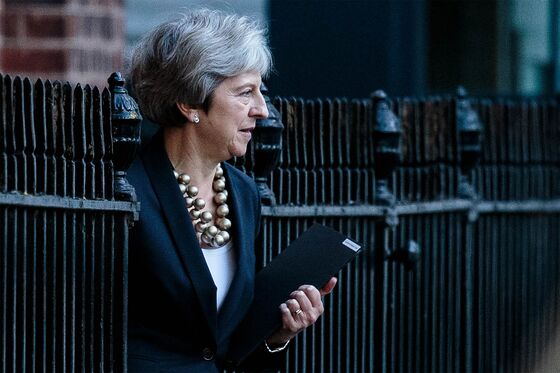 If this seems familiar, it's because it is the pattern that has been in place for at least a year. May offers a compromise in her talks with the European Union. Brexiteers denounce it and tell journalists her days are numbered. May makes a statement that somewhat mollifies them, and the danger subsides.
These advances and retreats don't mean the threat to May isn't real.
This time, the compromise was the idea of an extension to the time in which, after Britain has left the EU, it will continue to abide by its rules while it works out what comes next. That infuriated her colleagues, but her insistence Monday that she won't agree to split Northern Ireland from the rest of the U.K. won her back some time. Former Brexit Minister Steve Baker, one of the organizers of the European Research Group caucus of Conservative lawmakers, which wants maximum distance from the EU, pronounced himself satisfied.
"Strong reassurance on the Union of the U.K. given by the PM,'' Baker tweeted as May addressed lawmakers. He had earlier said he was dropping a Parliamentary attempt to sabotage the Brexit talks.
In private conversations, Conservatives on Monday willingly discussed the possibility of a challenge. Few think she's a good prime minister, and very few indeed think she'll still be leader at the next election. But that's not until 2022. The thought of a leadership vote this week now seems more remote. One person who would be a candidate to replace her confided cheerfully Monday that he was planning to spend the second half of the week with his family.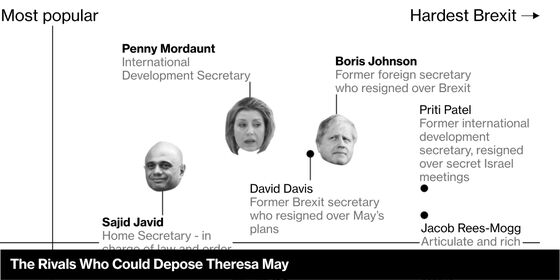 "A leadership challenge this week is very unlikely,'' said Bob Seely, a Conservative lawmaker. "We hear talk of threatened rebellions that don't materialize."
The problem for Tories who want to eject her continues to be one of numbers. They need 48 lawmakers to sign letters demanding a confidence vote in her. But they need 158 to win that vote. While they're confident of the former, they don't think they have the latter.
An official in May's office said that, though the volume of complaints about the prime minister was louder, it seemed that this reflected people who were already angry getting angrier, rather than more people joining their ranks. But some of those campaigning against May say their ranks have been swelled in the last week.
Speaking privately senior figures on both the pro- and anti-Brexit wings of the Conservatives say their challenge is to win to their side what one lawmaker described as "the agnostics'' who make up the soft center of the party -- "The Blob,'' another lawmaker called the group.
These are the Tory members of Parliament who don't care strongly about Brexit one way or the other, and just want it to be over. Those Conservatives suspect their voters are more interested in schools and hospitals than the Northern Irish backstop, and other arcane Brexit details.
Without the support of a significant part of The Blob, any attempt to eject May will fail, and will actually make her safer: It would be 12 months before the next confidence vote was allowed. Some Brexiteers fear they could find themselves in the midst of an accidental challenge – May could upset someone and trigger the letter that tips the balance. Only one person, Graham Brady, convenor of rank-and-file Tories, knows how many no-confidence letters are already in, and he never talks. Even those who claim to be keeping a tally concede their colleagues might be lying to them.
"So far the story of Brexit is a lot of smoke and not that much fire," Seely said. "That may, however, change when Parliament has a say on any deal.''