The Digital War Over Brexit Could Soon Kick Off Again
(Bloomberg) -- There are signs the digital war over Brexit is heating up.
Theresa May's Conservative Party quietly released a series of ads on Facebook on Thursday, urging people to back her Brexit deal with the European Union.
The move is part of May's strategy to appeal directly to voters over the heads of lawmakers who oppose her deal.
Each of the six ads features an individual — including one who voted to remain and a woman from Northern Ireland — who looks straight into the camera and says why they back the deal and argues that lawmakers should too when Parliament votes on Dec. 11.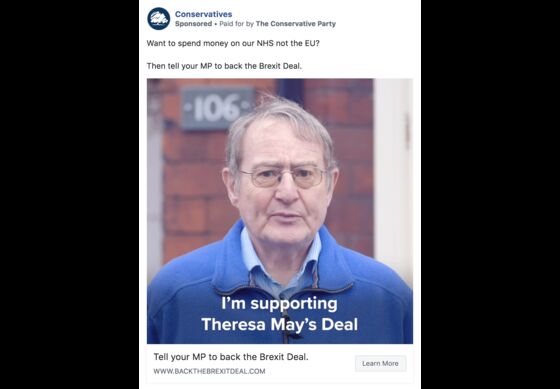 Social media now plays a central role in political advertising as organizations can zero in on potential voters more accurately than ever. Facebook responded to concerns about the lack of transparency of political ads by introducing a publicly visible ad manager, which displays the 180 videos promoted by the Conservative Party but only provides a few details of who is being targeted.
Sam Jeffers, co-founder of independent monitoring group Who Targets Me, suggested the targeted locations could explain the strategy. "It would be interesting to see if these are just going to the constituencies of wavering Tory MPs," he said. "If you're only targeting the consistencies of 40 Tory MPs, then that's really about party management rather than selling the deal to the U.K."
Facebook's tool reveals that most of the videos have each been seen by as many as 1,000 people and that the party has put under £100 ($128) behind each ad, suggesting it may be running tests to understand which groups of people respond best to each one.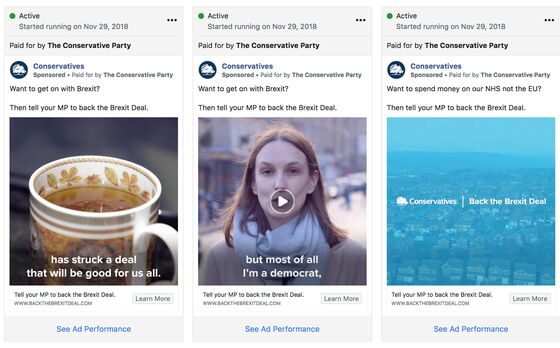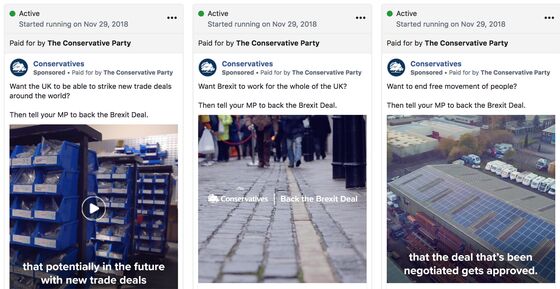 People who click on the video are sent to a website the party recently launched, Back the Brexit Deal, which allows voters to directly message their lawmakers. It also allows the party to collect people's email addresses.
And it's not just the Conservatives who are looking to target people through Facebook. Earlier in November, the Labour Party introduced its own selection of ads, including a video about "why May's Brexit deal is bad for Britain." Some of the ads were seen by more than 100,000 people, according to Facebook data.