There May Be a Bigger Problem Than Brexit or Italy: Taking Stock
(Bloomberg) -- Forget Brexit and Italian populists for a second. It's worth paying attention to what's going on in France.
For more than two weeks, the country has been disrupted by an unusual protest: the so-called "Gilets Jaunes" or "Yellow Vests." France is used to labor unrest and chaos affecting transport of course, with strikes something of a national pastime. But this time it's different. Some 100,000 people blocking toll roads, petrol stations and crossroads is creating major disruption to transport and retail. It's also proving to be extremely tricky to defuse, as there's no single protest leader to negotiate with. For investors, the question is whether it could derail the outperformance of French equities in 2018.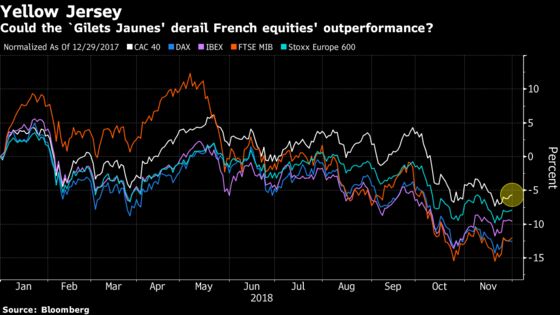 One thing is clear. These protests are a real threat to the country's retailers, including Carrefour and Casino, which are already busy battling a price war and trying to fend off Amazon.com's efforts to penetrate their home market. Big-box retailers have been hurt by the demos and blockages throughout the country, with customers denied access to some hypermarkets and supermarkets for entire days at a time. They recorded an average fall in consumer-good sales of 35 percent on Nov. 17 and of 18 percent the following Saturday, according to Nielsen data.
All this is adding to the perception of shrinking purchasing power in France, in particular among people on lower incomes. And that "doesn't bode well" for the year-end holiday retail season, which needs a boost after the unseasonably hot weather of the previous months, according to Invest Securities. In fact, consumer confidence has been depressed since the summer, and this might be the final straw.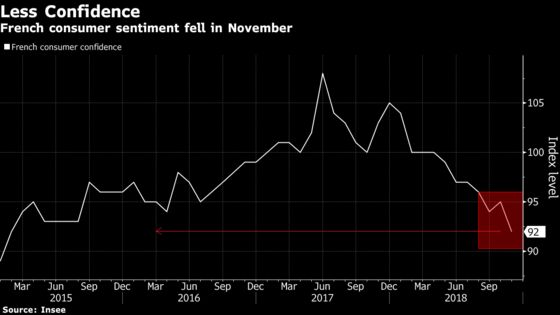 The impact on toll roads is harder to quantify, as demonstrators have been regularly opening them to let cars pass freely. Vinci is the largest operator in France and although motorway concessions only account for about 13% of its 2017 revenue, they generated more than 59 percent of its Ebitda. So brace yourself for an impact on earnings if the unrest gains traction.
The protests started on Nov. 10 with thousands of demonstrators demanding lower gasoline prices and taxes. Demonstrators marched on Paris's Avenue des Champs-Elysees two weeks later, triggering social unrest. Surprisingly, the protest is benefiting from a significant backing, with 84 percent of the French public calling it "justified," according to Odoxa-Dentsu poll for Le Figaro. Further rioting over the weekend shows the movement is spinning out of control.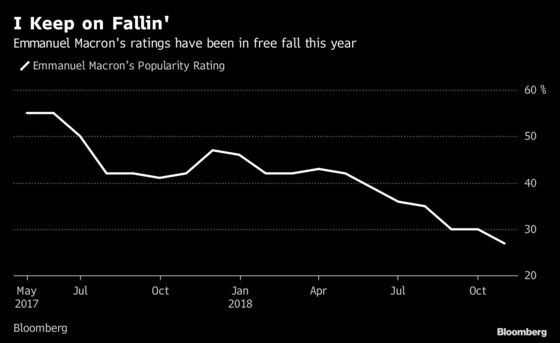 If this movement snowballs like we've seen in Italy with the Five Star Movement, Macron will have his hands full handling a crisis at home and have less time for the matters of the euro zone. After Greece, Brexit and Italy, this is another front that Europe didn't need.
This is something to keep in mind, although today, the market will be focused on positive developments coming out from the G-20 meeting. Commodities, Asian equities and U.S. futures are rallying. Euro Stoxx futures are trading up 2% ahead of the European open.
Watch for stock rally after Donald Trump and Xi Jinping agreed to prevent any escalation of the trade war between the U.S. and China. Look for a reaction in all those sectors most battered by trade tensions between the pair, including semiconductors, miners and autos. Also for companies exposed to emerging markets rallying on the deal.
Watch oil and gas stocks with WTI and Brent futures surging following the extension of a pact between Russia and Saudi Arabia and output cuts in Canada. WTI futures surged as much as 5.7% and Brent by as much as 5.3%. Watch oil majors like Shell, Total and BP, oil services firms like Wood and TechnipFMC and smaller oil explorers like Tullow Oil.
Watch the pound and U.K. equities as the opposition Labour Party has threatened a vote to bring down the government should parliament reject the Brexit plan Prime Minister Theresa May has presented. That could put the U.K. on course for another general election, so add that and a brewing battle over publishing legal advice to the list of subjects that which could impact the pound and U.K. stocks as the key vote approaches next week.
"Whilst the communique omits a reference to protectionism for the first time, all of the headlines were centered around the Trump-Xi meeting," Raymond James strategist Chris Bailey commented in an email. "Trump may have tweeted that 'China has agreed to reduce and remove tariffs on cars coming into China from the US' but the Chinese seem more focused on the importance of US 'sincerity' and less on the 90 days no new tariff deadline the US has talked about. All to play for. Still, markets love that they are talking."
European pensions and asset managers have a bigger appetite for alternative investments than their global counterparts.
The number of exits from Nasdaq Inc.'s Nordic main markets now outnumber initial public offerings for the first time in at least five years, adding to signs of a slowdown in listings activity.
Austria is trying to free about 70 billion euros ($80 billion) of capital locked in a "golden cage" the country created a few decades ago.
Staff at Ted Baker have started a petition demanding that founder and Chief Executive Officer Ray Kelvin stop hugging them, the Sunday Times reported, without saying where it got the information.
Trump-Xi Truce Puts Trade Tension-Battered EU Stocks in Focus
Deutsche Bank CEO Doesn't Expect to Become Target in Probe: BamS
LafargeHolcim CEO Diversifying From Cement, SonntagsZeitung Says
Julius Baer Chairman to Step Down in 2019, SonntagsZeitung Says
BNP Paribas HR Head Says Co. to Pursue Talks W/ Unions: Echos
Novartis's AVXS-101/Zolgensma Gets FDA Filing Acceptance
Argenx Signs Pact With Johnson & Johnson Unit Worth Up to $1.6b
Roche's Longer-Term Data on Polatuzumab Vedotin Show Improved OS
Implenia Adjusts Outlook for 2018, Confirms Mid-Term Targets
Takeda to Receive $3.7b JBIC Loan for Shire Acquisition
Monoprix President Schultz Says Three Outlets Damaged by Riots
HSBC Plans $2.1B Investment Next 3-5 Years for Tech Enhancement
Total Expects FID on Papua LNG by End-2020, Output by End-2024
Banks Warned Not to Move Business From U.K. Due of Brexit: FN
Karo Pharma Chairman Anders Lönner Dies
Ferrovial Looking to Sell Global Support Services Assets: FT
Sobi: L/T Elocta, Alprolix Studies Confirm Safety, Efficacy
Santander Seeks Double-Digit Growth In Private Wealth Assets: FT
DIA Starts Process to Sell Max Descuento: El Confidencial
Third Point Not Seeking to Replace Nestle Chairman, FT Reports
Carlsberg Cost Cuts to Fund Organic Growth, CFO Tells Borsen
Union May Seek EU40M From Air France if Joon Halted: Tribune
NOTES FROM THE SELL SIDE:
Citi says next year isn't expected to bring a recession or bear market, but it prefers selected end-market exposure. In a European capital goods 2019 outlook note, the bank sees two "smoking guns:" cyclical concerns, and a potential re-pricing of money as QE ends. Key buy ratings include: Siemens, ABB, Vestas, Siemens Gamesa, Signify, Alfa Laval, Volvo, Epiroc, Metso, Trelleborg, Weir Group, Rotork, Wartsila and Smiths Group. Key sell ratings include Kone and Nordex.
TECHNICAL OUTLOOK for Stoxx 600 index:
Resistance at 365.1 (38.2% Fibo); 367.8 (50-DMA)
Support at 353.1 (50% Fibo; 341.2 (61.8% Fibo)
RSI: 46
TECHNICAL OUTLOOK for Euro Stoxx 50 index:
Resistance at 3,194 (50% Fibo); 3,262 (March low)
Support at 3,072 (61.8% Fibo); 2,921 (76.4% Fibo)
RSI: 46.7
MAIN RESEARCH AND RATING CHANGES:
UPGRADES:
BNN GR raised to buy at Oddo BHF
Dunelm upgraded to buy at Peel Hunt
Opap upgraded to outperform at NBG Securities; PT 10.20 Euros
Sandvik upgraded to neutral at JPMorgan; Price Target 150 Kronor
Wizz Air upgraded to buy at HSBC; PT 35 Pounds
d'Amico International Shipping raised to buy at Kepler Cheuvreux
ABB downgraded to underweight at JPMorgan; PT 21 Francs
Bodycote downgraded to neutral at JPMorgan; PT 8.55 Pounds
Kion downgraded to neutral at JPMorgan; Price Target 59.50 Euros
Legrand downgraded to underweight at JPMorgan; PT 55 Euros
SKF downgraded to underweight at JPMorgan; PT 150 Kronor
Signify cut to underweight at JPMorgan; Price Target 21 Euros
Fermentalg rated new buy at Kepler Cheuvreux; PT 5.90 Euros
HelloFresh rated new overweight at Barclays; PT 14 Euros
MSCI Asia Pacific down 0.1%, Nikkei 225 up 1%
S&P 500 up 0.8%, Dow up 0.8%, Nasdaq up 0.8%
Euro up 0.42% at $1.1364
Dollar Index down 0.4% at 96.88
Yen up 0.04% at 113.53
Brent up 4.4% at $62.1/bbl, WTI up 4.9% to $53.5/bbl
LME 3m Copper up 2% at $6323/MT
Gold spot up 0.4% at $1227.7/oz
US 10Yr yield up 6bps at 3.04%
MAIN MACRO DATA (all times CET):
9:15am: (SP) Nov. Markit Spain Manufacturing PMI, est. 51.5, prior 51.8
9:45am: (IT) Nov. Markit/ADACI Italy Manufacturing PMI, est. 48.9, prior 49.2
9:50am: (FR) Nov. Markit France Manufacturing PMI, est. 50.7, prior 50.7
9:55am: (GE) Nov. Markit/BME Germany Manufacturing PMI, est. 51.6, prior 51.6
10am: (EC) Nov. Markit Eurozone Manufacturing PMI, est. 51.5, prior 51.5
10:30am: (UK) Nov. Markit UK PMI Manufacturing SA, est. 51.7, prior 51.1
11am: (DE) Nov. Danish PMI Survey, prior 67.1
(IT) Nov. Budget Balance, prior -3.9b
6pm: (IT) Nov. New Car Registrations YoY, prior -7.42%